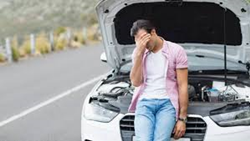 "Drivers should consider purchasing mechanical breakdown insurance, especially if they have valuable cars", said Russell Rabichev, Marketing Director of Internet Marketing Company.
LOS ANGELES (PRWEB) November 05, 2019
Cheapquotesautoinsurance.com has launched a new blog post that explains what is mechanical breakdown insurance and why drivers should purchase it.
For more info and free car insurance quotes, visit https://cheapquotesautoinsurance.com/the-basics-of-mechanical-breakdown-insurance/
A mechanical breakdown can be a serious inconvenience for many drivers. The high costs for repairing mechanical parts, or even replacing them, can seriously affect the driver's budget. Many drivers that have insurance, do not anticipate they will have to pay for repairs that are necessary after a mechanical breakdown:
The mechanical breakdown insurance coverage will help pay for the mechanical repairs that are not the result of a collision or accident. Although similar to the extended warranty, mechanical breakdown insurance has the advantage of not having limits on what repairs can be done.
Mechanical breakdown insurance does not cover damage caused by corrosion, lack of maintenance, improper maintenance, everyday wear, improper use of the vehicle, and intentional damage caused by the policyholder.
Mechanical breakdown can be very expensive. The policyholder can pay even $3.000 to replace or repair certain car parts. Depending on the coverage level, the policyholder has purchased, mechanical breakdown insurance will cover the costs to repair or replace certain car components.
Basic level of coverage pays for:

Engine parts, like oil pumps, valves, pistons, flywheel
Transmission and transaxle cases, together with their internal components
Driving axle and internal components
Additional coverage will reimburse the policyholder the costs to repair or replace the fuel system, steering, and even the air conditioning system.
Before purchasing mechanical breakdown insurance, policyholders should consider checking their car warranty, to see if the plan duplicates their warranty services. Other things to consider are the deductibles, the coverage limits, vehicle mileage limitations, and any exclusions.
For additional info, money-saving tips and free car insurance quotes, visit https://cheapquotesautoinsurance.com
Cheapquotesautoinsurance.com is an online provider of life, home, health, and auto insurance quotes. This website is unique because it does not simply stick to one kind of insurance provider, but brings the clients the best deals from many different online insurance carriers. In this way, clients have access to offers from multiple carriers all in one place: this website. On this site, customers have access to quotes for insurance plans from various agencies, such as local or nationwide agencies, brand names insurance companies, etc.