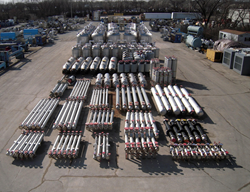 Aaron can help you evaluate the options to help you achieve your goals and it's free to consult with us.
WOOD DALE, Ill. (PRWEB) March 26, 2021
Process and packaging equipment takes up a lot of space. Therefore, it can be very tempting for companies and individuals who have idle machinery to try to dispose of it as quickly as possible with the goal of freeing up plant space for another use or to save on rent, utilities, and taxes. Failure to contact an expert early when making decisions can be very costly in more ways than one.
Michael Cohen, Head Equipment Buyer at Aaron Equipment Company, is always happy to sit down with potential customers and discuss how they can avoid expensive mistakes. With over 25 years of experience buying, selling, and appraising equipment, he offers some useful tips for sellers of used equipment to maximize the financial return on their sales.
Tip #1: Age of the equipment or time on the meter does not always negatively impact value. Not all equipment ages equally. Similarly, meter readings must be evaluated by integrating current market conditions. Cohen also incorporates the cost to remove, ship, and store the equipment. Without this expertise, it's really easy to underestimate the equipment's real worth.
Tip #2: Ignore COVID-19. Cohen points out that it's a huge mistake to assume the pandemic is an obstacle to selling idle equipment. There are several ways Aaron can help quickly monetize idle assets. Aaron can buy it outright, conduct an auction, or liquidation. Aaron also provides complete asset management services that can help larger companies manage and redeploy their idle used equipment in other parts of their operations.
Tip #3: Selling used equipment is good finance. Selling surplus equipment generates a new source of capital. Don't underestimate the positive financial impact this can have on your business. The proceeds can be used to reinvest in new initiatives, pay down debt or distribute to shareholders.
"Aaron can help you evaluate the options to help you achieve your goals," Cohen says, "and it's free to consult with us."