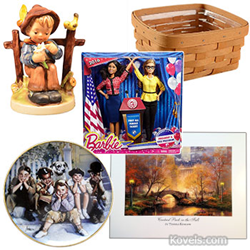 CLEVELAND, Ohio (PRWEB) August 17, 2018
The antiques experts at Kovels have always said collecting is fun, but it is not always a good investment. They advise to buy what you like or want to use, not to make money. Whether antiques and collectibles appreciate in value or not is often a matter of luck or changing tastes. Kovels updates 7 collectibles once bought as good investments that are worth much less today.
1. Hummel figurines once sold for hundreds of dollars apiece. But the generation that collected them after World War II is downsizing and young collectors have no interest in them. A few are listed on eBay for $1. Some rare Hummels, those more than 12 inches tall or made before 1949, still sell in the hundreds, but most have little value. Same with other "collectible" figurines like Precious Moments or even Royal Doulton.
2. Limited editions sold by the Franklin Mint, Bradford Exchange and many others. "Limited edition" coins, plates, medals and other collectibles still have a very little to no resale market. Franklin Mint coins and medals can get their meltdown value but it's a fraction of the original sale price. Same with items from the Danbury Mint. Royal Copenhagen and Bing & Grondahl Christmas plates are still wanted but are not as expensive as at the height of their popularity.
3. Longaberger baskets. Handcrafted baskets made by the Longaberger Company of Newark, Ohio, became a hot collectible in the 1990s, with some selling for more than $100. Today most sell for less than $20, even the once-expensive limited-edition baskets. Their famous basket-shaped building sold last year, and the company closed earlier this year.
4. Limited-edition Barbie dolls. Mattel issued many different limited-edition Barbies over the years and they are still declining in value, worth less than the price paid when new. But early Barbies from 1959 through the 1960s in mint condition are still going up.
5. Thomas Kinkade paintings and prints have very limited resale value. They were produced in huge quantities and buyers who paid retail prices for "paintings" at a Thomas Kinkade Signature Gallery (there were more than 300 in the 1990s) will have trouble selling them. Many paintings were not original oils by Kincade but prints with some oil paint added. Since his death in 2012, framed Kinkade prints are listed online for as little as $13. Most receive no bids.
6. Vintage lithographed metal lunch boxes were a popular collectible in the late 1980s, and by the 1990s, some were selling for thousands of dollars. Today, few lunch boxes sell for more than $100 in mint condition and most bring much less. Lunch boxes that are cross-over collectibles (Superman, Beatles or Star Trek) sell for more to those collectors.
7. Cookie jars became a hot collecting category after Andy Warhol's cookie jar collection was auctioned for steep prices following his death in 1987. Collectors paid hundreds, even thousands for cookie jars that were limited editions and not even that old. But today, cookie jars once thought of as collectible sell for less than $50 at flea markets or online shops to actually hold cookies. Very few sell for more.
Other collectibles that have failed to hold value: Beanie Babies, Cabbage Patch Kids, Avon bottles, Beam bottles (except for athletic-related bottles) and trading cards.
Terry Kovel is America's foremost authority on antiques and collectibles. She is the well-known columnist and author of more than 100 books on antiques and collecting. The 2018 / 50th anniversary edition of Kovels' Antiques & Collectibles Price Guide is currently available at Kovels.com and local bookstores. Terry Kovel will discuss antiques and collectibles topics with accredited media. Photographs are available. Contact pr(at)kovels(dot)com.
About Kovels.com
Kovels.com, created by Terry Kovel and her daughter, Kim Kovel, provides collectors and researchers with up-to-date and accurate information on antiques and collectibles. The company was founded in 1953 by Terry Kovel and her late husband, Ralph. Since then, the Kovels have written some of America's most popular books and articles about antiques, including the best-selling annual Kovels' Antiques & Collectibles Price Guide. The website, Kovels.com, online since 1998, offers more than a million free prices, and includes a free weekly email, "Kovels Komments." It gives readers a bird's-eye view of the market through the latest news, auction reports, a Marks Dictionary, readers' questions and answers and much more.
Contact Information:
Liz Lillis
216.752.2252
Pr(at)kovels(dot)com