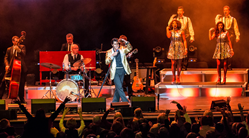 Dean Z, star of the hit international touring production "Elvis Lives," brings his high-energy tribute show to the Clay Cooper Theatre.
BRANSON, Mo. (PRWEB) April 06, 2021
As travelers begin to emerge from the past year's long hibernation, Branson, Missouri is wide awake and waiting. When the time is right for your family to travel, Branson is all about taking this year's vacation to entirely new levels. From the heights of Silver Dollar City's record-breaking roller coasters and new water ride (which features an 8-story lift and tremendous drop) to the depths of the oceans as explored on a visit to the new Aquarium at the Boardwalk, even a pandemic couldn't halt the incredible growth of this town's tourism industry. In the past 12 months, Branson has added new rides, new attractions, new shows, new restaurants, new shops and even a new golf course. Read on for the full assessment of everything new that's now waiting to be discovered on a trip to Branson, where the amount of fun a family can have together remains – as always – immeasurable.
Silver Dollar City takes the crown for #1 Amusement Park in all the land by 10Best/USAToday Readers' Choice Awards. Also named in Top 10 for Best Restaurant is Buckshot Annie's, home of those favorite skillet meals, ranked #5; and Best Roller Coaster, the 2015 Guinness World Record-holding wooden roller coaster, Outlaw Run, ranked #10. The all-new Mystic River Falls, considered an engineering marvel with a rotating 8-story lift and massive waterfall drop, truly an only-of-its-kind water ride as "The Tallest Drop on a Water Raft Ride in the Western Hemisphere, is #7 Best New Amusement Park Attraction.
Aquarium at the Boardwalk is unlike any other you've visited. Guests get a thrill from up-close views of amazing sea creatures ranging from colorful fish, seahorses and jellyfish to octopi, eels, and sharks. Observe more than 250 different species, an original 5D submarine adventure to the bottom of the sea, a 24-foot high Kelp Forest climbing structure for kids, a 16-foot view of a coral reef, two mirrored art installations that give the sense of infinite ocean life and more than 7,200 individual sea animals.
Coming to Branson for the first time ever, Sight & Sound's inspiring JESUS tells the life history of the most iconic Biblical figure and how he began his teachings. This beautiful performance comes together with a variety of special effects and original score and script that make Sight & Sound such an amazing theatrical venue.
Dean Z, star of the hit international touring production "Elvis Lives," brings his high-energy tribute show to the Clay Cooper Theatre. A musical journey spanning the 20-year career of the "King of Rock 'n' Roll," from the 1950s to his Las Vegas performances of the 1970s, with a powerful 10-piece band and immersive video for a big concert experience.
Garry and Janine Carson are making a grand entrance into the Branson entertainment scene with their addition of Escape Reality, a world-class illusion and comedy dinner show. The couple run Carson Entertainment, a national touring company that produces award-winning shows in Las Vegas. Branson Central Theatre provides the intimate setting for a show, making everyone part of the act.
Dig out your bell bottoms, put on your dancing shoes and come celebrate the classic #1 hits of the '70s at the King's Castle Theatre. This high-octane musical extravaganza is filled with singers and dancers performing off-the-hook tunes. Dancing Queen features disco classics like "Y.M.C.A.," "Disco Inferno," "Play That Funky Music," "We Are Family," and many more.
The Amazing Acrobats of Shanghai present their new show, Shanghai Circus, as they celebrate 22 years in Branson. This production promises to exercise more variety than audiences have ever seen before. Experience breathtaking acrobatics, colorful dance, comedy, mystifying magic, and numerous aerial feats of strength.
Be part of history as you experience Payne's Valley Golf Course, Tiger Woods' first and only public access course. Designed by Tiger Woods and his team, it pays tribute to Payne Stewart, one of the most respected golfers presently in the World Golf Hall of Fame. Complete this special experience with a unique 19th hole called "The Big Rock at Payne's Valley."
With state-of-the-art technology, you'll have the true feeling of flight at FlyRide inside at Beyond the Lens. You'll soar over mountaintops and skim over lakes in a suspended, free-floating multi-person ride that glides and tilts giving you the most inspiring ride of your life.
Fritz's Adventure adds new components including over 300 feet of tunnels, 32 obstacles, 11 ziplines, six bridges, and two drops complementing existing facilities. Enjoy the City Wall, Sky Trail, Sky Tykes, laser maze, underground tunnels, treehouses, slides, warped walls, half pipe, a real airplane for exploring, shipping containers with paths and tunnels, water tower maze, aerial bridge, and Fritz's Forest. Try the unique outdoor flying experience, Fritz's Aerodium, which opens in May.
Being added to Tanger Outlets 75+ brand name designer choices are two new stores: Lululemon Athletica and Tory Burch. Lululemon athletic apparel store is originally known for their yoga wear. Tory Burch features women's handbags and accessories.
Guy Fieri, the famed chef, author, and television personality, is opening Guy Fieri's Branson Kitchen + Bar in Branson this year. The restaurant boasts unique, bold flavors packaged inside signature sandwiches, made-from-scratch entrees, house-smoked meats, and mouthwatering desserts that can be enjoyed in a scenic atmosphere on the banks of Lake Taneycomo.
Seven Arrows Taproom, located in the historic district of Hollister, Mo., offers local craft beer and wine. A space to fellowship with friends and family and to become part of their Seven Arrows family as well.
About Branson
Branson is a one-of-a-kind family vacation destination nestled in the lakeside beauty of the Ozark Mountains — and an incredible value — with dozens of live performance theaters, three pristine lakes, an international award-winning theme park, dozens of attractions and museums, a Historic Downtown district, a Town Center-style shopping complex, a full range of dining options, and a host of hotels, motels, resorts, RV parks, campgrounds and meeting and conference facilities and sports venues. Branson is less than one day's drive for one-third of America's populace. With low-cost flights to the Branson Airport (BKG http://www.flybranson.com) and nearby Springfield-Branson National Airport (SGF), it has never been easier to access Branson. Call 1-800-296-0463 for help planning your next vacation, convention, sports event, or reunion. See more at: http://www.explorebranson.com