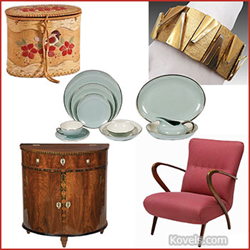 CLEVELAND (PRWEB) July 20, 2018
Kovels' readers often ask, "What's 'in' now?" The best of every type of antique or collectible is always in demand. But here are 5 antiques and collectibles that are currently seeing rising prices. Hint: Sleek and "modern" are still in but "brown" is sneaking back.
1. Costume jewelry is still the most popular items sold at shows and online. Vintage is more affordable than new, but pieces marked with makers' names like Miriam Haskell, Hattie Carnegie and Trifari sell for more now than in the last 10 years. Modernist silver jewelry is hot, and prices for pins and earrings by artists like Art Smith are in the thousands of dollars. So look for unmarked pieces of jewelry. They are bargains compared with store prices. Consider pearls, long chains that can be layered, enamel bangle bracelets that can be worn together and anything with big colored stones, like pins and cocktail rings. An unmarked but well-made modernist style bracelet can be found for $75 in an online shop.
2. Midcentury furniture. Today's younger buyers are still on the hunt for blond and light wood pieces from the 1950s, '60s and '70s – sofas, chairs, tables and desks with sleek design and clean lines. Oak and clunky is out. But anything marked Eames, Saarinen, Bertoia, Nelson, Wormley, Robsjohn-Gibbings, Finn Juhl, Herman Miller or Knoll is in demand and is selling for very high prices. So look for unmarked and therefore less expensive mid-century pieces as well as fun and unusual accessories that complete "the look" – 1950's pole lamps, floor lamps and table lamps, wall clocks, metal wall hangings and iconic plastic chairs. A mid-century arm chair made in Italy in the 1940s sold for $154 at a Texas auction.
3. Period furniture. Currently the trend is still mid-century furniture. But while the market has been down for "brown" furniture, it's starting to go up. Good period furniture is starting to sell again. Now is a good time to look forward a few years and buy Chippendale, Regency, Georgian and Sheraton. Look for high-quality craftsmanship that will maintain its value. Buy "period," not repro from the 1920s and '30s. And mix it up – incorporate statement antiques into modern decorating schemes. An 1820's Biedermeier demilune cabinet, walnut with marquetry detail, offers useful storage and sold for $1,750 at a New Orleans auction.
4. Baskets. Prices have been rising for Japanese baskets. Their artistry and form have been drawing buyers since the mid-2000s. Prices are particularly high if they are signed by the maker. So, look for baskets, historic or modern, that were made in other countries or with a maker's mark that can be identified. Keep an eye out for baskets that were made with traditional techniques but in shapes that are more sculptural than utilitarian. An American Indian birch bark quill basket is an unusual form. It has an identification card from the maker and auctioned for $345 in Florida.
5. Dishes and glassware. Sets of antique or vintage dinnerware and glasses are selling for very low prices or not at all at antiques shops, flea markets and auctions. Think about finding a set not to collect, but to use. Serve food with utensils and dishes that were made especially for asparagus, soup and even condiments. Explain to your family and guests that while the designs may be off-trend, they are pieces of history. And a bargain at that. A 58-piece dinnerware set by Franciscan in the pattern is Dawn sold for $246 at auction in Detroit.
So pass on your grandmother's figurines and head for her vintage rings and brooches. Snag the mid-century modern desk, but also consider the mahogany corner cabinet, buffet or bookshelf if it's good quality. Don't ignore the dishes. And on your next trip, be sure to check out the local basket makers.
Terry Kovel is America's foremost authority on antiques and collectibles. She is the well-known columnist and author of more than 100 books on antiques and collecting. The 2018 / 50th anniversary edition of Kovels' Antiques & Collectibles Price Guide is currently available at Kovel.com and local bookstores. Terry Kovel will discuss antiques and collectibles topics with accredited media. Photographs are available. Contact pr(at)kovels(dot)com.
About Kovels.com
Kovels.com, created by Terry Kovel and her daughter, Kim Kovel, provides collectors and researchers with up-to-date and accurate information on antiques and collectibles. The company was founded in 1953 by Terry Kovel and her late husband, Ralph. Since then, the Kovels have written some of America's most popular books and articles about antiques, including the best-selling annual Kovels' Antiques & Collectibles Price Guide. The website, Kovels.com, online since 1998, offers more than a million free prices, and includes a free weekly email, "Kovels Komments." It gives readers a bird's-eye view of the market through the latest news, auction reports, a Marks Dictionary, readers' questions and answers and much more.
Contact Information:
Liz Lillis
216.752.2252
Pr(at)kovels(dot)com