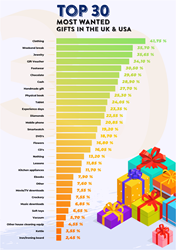 LOS ANGELES (PRWEB) November 20, 2018
46 percent of Americans have lied about liking a gift during the holiday season, while 32 percent have immediately rewrapped a gift to give to someone else.
That's according to a new study from Thatsweetgift.com (https://thatsweetgift.com/christmas-shopping-statistics/), which surveyed 4,060 people in the US and the UK.
The same study reveals that 1 in 10 Americans have resold their gift on eBay, and half of the U.S. consumers surveyed kept unwanted gifts but never used them.
So what gifts do Americans really want this holiday season? Top voted gift for women continues to be the classic gift of jewelry (47 percent of women in the U.S. want jewelry for the holidays). Men voted for gift cards, with clothing being a close second, and cash being the third ranked gift (32.3 percent, 32 percent, and 26 percent of men surveyed chose these gifts respectively).
How much should you be spending on gifts?

Average amount men spend on their spouse or partner is $136.20
Average amount women spend on their spouse or partner is $116.49
Only 12.5 percent of US adults spend more than $300 on their spouse or partners
1 in 4 Americans spend nothing on their adult children
35.3 percent of US adults spend nothing on their best friend
Also, expect to be extra giving this season. Americans buy almost twice as many gifts as they receive. The survey shows Americans on average will give 10 gifts this holiday season and receive only 5 in return.
On average, who do we spend the most on?
$123.34 on our spouse or partner
$28.95 on our best friend
$61.81 on our mom
$48.59 on our dad
$90.98 on our adult son
$90.52 on our adult daughter
$26.49 on our grandparents
Tis the season to be giving.
About The Data:
The data was acquired through Censuswide. We polled 4,060 people in the US and UK, ages 16 and over, starting October 1, 2018.
You can find more detail at https://thatsweetgift.com/christmas-shopping-statistics/
A data spreadsheet is available at https://docs.google.com/spreadsheets/d/1McWDycCzmOgEcNjnrFWXkYVps8avE6G0NGKJ0FtiJus/edit#gid=315556715 and the raw data from Censuswide is available on request.
If you have any further requirements for comment, imagery or data, please contact Tania Pantoja at tania(at)ivycmg.com or 1.310.403.6436.