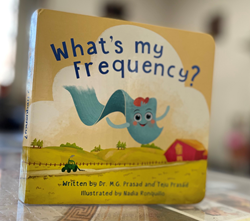 NEW YORK (PRWEB) November 18, 2020
Launching today for pre-order, What's my Frequency? is a new children's book that teaches newborns through toddlers about different sound frequencies and what they sound like. The story centers around animal sounds, which children can relate to and act out while reading the book, making the entire experience more active. At an early age when children's brains are most malleable, it is key to expose them to books, sounds, and tools for learning and development to put them on a path towards success. What's my Frequency? creates a high-touch experience meant to be shared between caregivers and children that primes the brain for development.
According to the WHO, "The early years are critical, because this is the period in life when the brain develops most rapidly and has a high capacity for change . . . opportunities for early learning [are] at the heart of children's potential to develop."
What's my Frequency? was written by Dr. M.G. Prasad and his son, Teju Prasad. Dr. M.G. Prasad was a Professor of Mechanical Engineering, at Stevens Institute of Technology for over 37 years, who specialized in acoustics, sound, and vibration. One of his passions was explaining basic sound and wave ideas to children with the help of his vast collection of sound-making toys. He's given many hands-on demonstrations to school classrooms, one of which (many years ago) included his co-author Teju's class. Teju Prasad is a writer and software engineer that has developed educational software for children. After his father's passing, he took their dream of What's my Frequency? and brought it to life with the goal of entertaining, educating, and uniting families for years to come.
"Working on this project with my father was extremely meaningful to me," says Teju. "Given his passion for the study of acoustics and vibration, I knew a children's story based on sound waves told in a way they could relate to, would be an excellent part of his continued legacy, and he would be very proud."
The book is illustrated by Nadia Ronquillo, whose work can be found across a myriad of children's books, animated shorts, and television programs. In addition to creating the central wave character in What's my Frequency?, she's drawn other non-traditional children's book characters, such as the human heart and emotions.
What's my Frequency? is available for pre-order now on MGPrasad.com/Book-Order for an introductory price of $7.99. Starting December 1st, the book will be available at the full retail price of $8.99. To ensure delivery by Christmas Day, orders must be place prior to December 15th. For more information, please visit https://mgprasad.com/book-order.