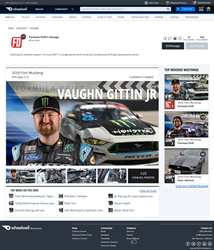 "Wheelwell gives Formula D and our Athletes a great opportunity to really showcase the kind of products needed to build a competition drift car."
SAN FRANCISCO (PRWEB) June 10, 2019
Formula Drift, the premier North American professional drifting series, is teaming up with Wheelwell, the #1 platform for showcasing custom vehicles. The partnership gives fans of the series a deep dive into the vehicles of their favorite drivers. It also gives the drivers a unique stage to showcase the sponsor products that make their cars into insane drifting machines. Everything from wheels and tires to custom fabricated control arms and body panels, fans can now peruse through all of the performance parts and pictures.
"Wheelwell gives Formula D and our Athletes a great opportunity to really showcase the kind of products needed to build a competition drift car. The Vehicle Spotlight videos we collaborate on with Wheelwell are bite sized content for the audience to snack on that ultimately takes them to the Formula D Garage on Wheelwell where the fan can upload their own car to see how it compares with our vehicles. It's a fun and interactive layer to what we do." comments Bryan Olfert, Formula Drift, Sponsorship Manager
Wheelwell connects fans with racing series' in a new way.
Until now, fans of a racing series had limited information about what makes a specific competition vehicle perform like it does. Wheelwell gives them the opportunity to peek under the hood and crawl under the car. Even better, if a fan has a similar vehicle, they can get ideas of how to modify theirs to perform like their favorite drivers. For example, someone with a 2019 Ford Mustang can check out Vaughn Gittin Jr's and utilize the same BC Racing coilover set on their vehicle or be one click away from getting the RTR body kit to look just like Vaughn's car.
"We've built a platform to show off a racecar or custom build in a truly immersive and visual way" said Jonathan Mill, Wheelwell's director of marketing, who developed the partnership between Formula Drift and Wheelwell. "We hope that more racing series see the value of showcasing their vehicles in a way that drives sales for their sponsors in a seamless funnel"
There are close to a million users on Wheelwell all segmented into their communities by vehicle generation. Offering a great way for new fans to discover Formula D through sharing the same vehicle as a professional driver. Even competing against them with their Mod Score.
Wheelwell CEO, Peter J. Nielsen continues, "Wheelwell is only beginning to showcase the possibilities of connecting automotive enthusiasts with professional racing leagues and the products that they use. Our unique visual platform is not only a place to show off your own ride but to find inspiration for your next modification. It has also created a great value-add for the racing communities sponsors, allowing a 'one click' process to buy the part you are looking at."
About Wheelwell
Wheelwell is #1 social marketplace for the automotive enthusiast. Venture-backed and headquartered in San Francisco, the Wheelwell team consists of former employees of Apple, eBay, Nextdoor, Twitter, AutoAnything, MotorTrend, and Volvo — all united on a mission to use the power of community to help car enthusiasts easily find and buy the very best products for their vehicles. For more information, visit wheelwell.com.
About Formula Drift
With 60 currently licensed drivers competing in Pro and Pro 2, Formula Drift is recognized as the premier North American professional drifting championship series. The series consists of an eight-round championship played out at race tracks across North America. Judged on line, angle, and style, rather than who finishes the course in the fastest time, Formula Drift brings together traditional racing and extreme sports.