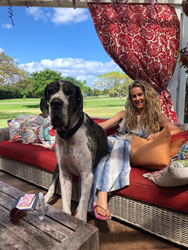 I loved working with Daniela Pellicciotti from Condoideas. It is rare to find such a passionate real estate agent that truly cares for your needs! I'm really grateful to her as she helped me find my dream home in Miami Shores. She guided me through the process, and made it a smooth experience.
MIAMI BEACH, Fla, (PRWEB) August 17, 2020
The single-family home market in Miami is over the roof lately. With a non-stop rising demand for houses with a garden and a pool, buyers want to "breathe". Since people are looking for more seclusion after the pandemic, residential neighborhoods in Miami such as Miami Shores have become the hottest spots where to buy a house "in the city".
Keeping this in mind Condoideas Realty Group decided to create its own Miami Shores website which only caters to this neighborhood. Housesmiamishores.com website features available houses for sale, and the recently sold homes in the neighborhood. However, it is not just another automated website, Miami Shores website also exposes personal insights as realtors on each house that becomes available after having visited them. Buyers are looking for a personable approach since they can find by themselves prices/photos and square footage. As a realtor, it's important to provide a premium and personalized service or the buyers will just look at some random nation-wide website.
The COVID-19 pandemic has hit the US remarkably hard, and customer tendencies have been clearly impacted. From the way people go to a supermarket, to the requirements they look when buying a house.
Always known for the glittering 5-star luxury high-rises on the beach, Miami is now one of the best cities to buy a house. Think about it, where sounds like a better place to live right now? In a crowded high-end condo, with shared amenities and busy elevators? Or in a private house with a private pool and more space? Above all Miami suburbs are very close to the airport, the beaches, and the downtown area which makes it easy for commuting. It is understandable why the tendency is now pointing to the single-family homes market.
The single-family home market in Miami-Dade has shown a rise in houses under contract this year compared to 2019. There was a 33.8% increase in units under contract in June 2020 compared to 2019. Median Prices also grew 5% this year compared to the same period in 2019. It is also a favorable time for sellers, with only 4.8 months of supply, and with almost 100% of the offers meeting their asking price.
In Miami Shores specifically, the volume of sales increased by 16.2% in the last 2 months, compared to the same period last year. The average sold price also rose by 9.2% from $326/sqft in 2019 to $356/sqft in 2020.
With more companies switching to remote working, the requirement of living in the city center or financial district is no longer a priority. With more interest in the living area, people are looking for spacious houses in villages, close to –but not inside- Downtown or Brickell.
Extra space has become a must when purchasing a house in Miami, as to whether working from home or having kids in homeschooling, there is a need for an additional room.
Nowadays, one of the most desirable areas has become the residential neighborhood of Miami Shores Village. With an ideal location a few minutes away from Brickell, entertaining areas such as Wynwood or Design District, both airports and Miami Beach, this neighborhood has all it takes to become one of the hottest spots to live in Miami.
But why is buying a house in Miami Shores a good investment? With a diverse inventory of waterfront and non-waterfront houses, this neighborhood is close to cultural entertaining and the best educational institution in the city. But to be honest, what drives the most interest to Miami Shores is the fact that when buying a house here, you'll become part of a community with friendly neighborhoods, and a village committee that organizes events every week at the community center, Country Club, aquatic center and library.
Housesmiamishores.com website features a button called "Our Insights" where Daniela Pellicciotti gives viewers her thoughts as a real estate professional for over 15 years, and as a personal homeowner for the past 5 years of a house in the neighborhood. This is by far the most valuable contribution to give to someone looking to buy a house in Miami Shores.
When buying a house, people are looking for the experience and for a human touch, and that's what this website is all about. A website created by an expert in the area with the old day's client/realtor relationship mixed with a state of the art technology which updates daily the market availabilities.
So if looking to purchase a house in Miami Shores, or if it's simple interest in getting to know more about the real estate market in Miami, don't hesitate to contact Daniela Pellicciotti, I'll gladly help as a real estate expert.
For information contact Daniela Pellicciotti, at +1 305 491 5583 or to daniela@condoideas.com
Facebook: @condoideasrealtygroup
Instagram:@condoideas
Youtube: https://www.youtube.com/channel/UC9HMVEXb753Ujo3tFf1T9MQ
About Condoideas Realty Group
Since 2005, Condoideas Realty Group has been a multimillion-dollar real estate brokerage based in Miami Beach Florida. With a talented team formed by high-end specialized real estate agents, Condoideas is a strong believer that communication, innovation, and hard work are the most important skills required to help clients find their dream home. Condoideas Realty Group has helped hundreds of families and investors with their real estate transactions, transforming them into experiences.