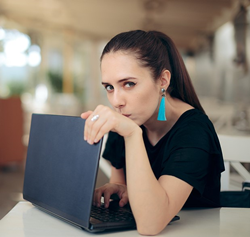 Digital marketers track your every move and serve up what they think you are going to buy based on your online behavior. At some point, the question becomes how will digital marketing and privacy be reconciled
HOBOKEN, N.J. (PRWEB) January 27, 2021
A NYC area digital marketing, IT, and data governance expert discusses how digital marketing practices and privacy concerns might be reconciled in a new article on the eMazzanti Technologies website. Citing Amazon as the standard of customer data-driven marketing, the author points out that modern digital marketing runs on data.
She then asks, "How much data is too much?" giving real-life examples of privacy concerns. She briefly reviews where privacy law and consumer sentiment are headed. Then she concludes by suggesting data transparency and consumer control of the individual's data provide a way to satisfy both digital marketers and privacy concerns.
"Digital marketers track your every move and serve up what they think you are going to buy based on your online behavior," stated Jennifer Mazzanti, CEO, eMazzanti Technologies. "At some point the question becomes how will digital marketing and privacy be reconciled."
Below are a few excerpts from the article, "When Digital Marketing and Privacy Meet Something Must Give."
How much data is too much?
"Whether online marketers can process, store, and protect all the data they gather is one question. Does all that data impact my life in ways that I would not choose is quite another. Consider these real-life examples of digital marketing surprises, head scratchers, and concerns:"

"Amazon knew we were pregnant before we did. Somehow, Amazon's data algorithms deduced from a shopper's online browsing that they were pregnant and began suggesting pregnancy and baby products."
"I just said X and look at this ad that popped up on my phone. After hearing that repeatedly from his wife, at least one consumer is convinced that Siri is listening all the time and acting on what it hears."
Between digital marketing and privacy, what will give?
"Amazon wants to know everything about you. Yet, in our hyper-critical society, people are feeling more guarded about sharing personal information, even shopping history. Working out what data can be collected and how it can be used is sure to be a battle."
Data Privacy and Digital Marketing Experts
To navigate the choppy waters between digital marketing and privacy, count on the retail technology, digital marketing and information governance experts at eMazzanti Technologies. They help with data infrastructure, data storage, cyber security, and compliance to keep large and small businesses growing and in step with best practice and privacy law.
Have you read?
How Retail Cybersecurity Can Adapt to the 2021 New Normal
Why it's Unwise to Pay too Much but Worse to Pay too Little
About eMazzanti Technologies
eMazzanti's team of trained, certified IT experts rapidly deliver increased revenue growth, data security and productivity for clients ranging from law firms to high-end global retailers, providing advanced retail and payment technology, cloud and mobile solutions, multi-site implementations, 24×7 outsourced network management, remote monitoring and support.
eMazzanti has made the Inc. 5000 list 9X, including eight consecutive years, is a 4X Microsoft Partner of the Year, the #1 ranked NYC area MSP and NJ Business of the Year! Contact: 1-866-362-9926, info@emazzanti.net or http://www.emazzanti.net Twitter: @emazzanti Facebook: Facebook.com/emazzantitechnologies.