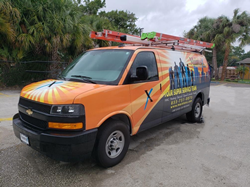 "Every minute matters when your facility is on the line," said Bill Schaphorst.
TAMPA, Fla. (PRWEB) May 01, 2020
There is no good time for store flooding, but it's even more difficult for facility managers during the COVID-19 pandemic. However, for one Georgia facility manager, MaintenX was able to turn around a bad situation, quickly, professionally and – most importantly – safely. Due to a leaky toilet, when the mobile phone store opened on Friday morning, the staff faced three inches of standing water throughout the shop and the adjacent store was also damaged. After reaching out to MaintenX, their Emergency Response crew was able to respond in less than 90 minutes.
The toilet leak created enough water damage to require the removal of all flooring from the store, and all counters and fixtures on the sales floor required replacement.
"Every minute matters when your facility is on the line," said Bill Schaphorst, VP of Business Development at MaintenX. "MaintenX technicians understand the stress of an unexpected water damage. I am proud of how our team was able to respond and complete repairs for our client."
MaintenX's team members worked safely and swiftly, being mindful of the current COVID-19 safety protocols, to rebuild the bases of the sales floor counters, repair drywall and paint the entire store. Repairs also included the cutting, painting and installation of a new wood cove base around the entire sales floor and new carpet tile throughout the store. MaintenX also repaired and reinstalled all store fixtures on the sales floor.
A show of their incredible dedication, MaintenX technicians arrived early and stayed late to help meet the client's goal to reopen quickly, putting in over 400 hours of labor to get the job done. In fact, the team onsite surpassed expectations, completing the work to open the store's doors for business the following Friday.
"We are always ready to help businesses, and believe it's more important than ever to be there for our clients during these stressful days," said Schaphorst. "MaintenX is proud to provide services that facility managers trust in their times of need."
For more information about MaintenX and to learn more about the services they provide, visit http://www.maintenx.com.
ABOUT MAINTENX INTERNATIONAL:
MaintenX International is a fully licensed, facilities repair company. As one of the largest national self-performing facility maintenance and repair companies in the U.S., MaintenX has created a wide network of knowledgeable and professional technicians throughout the country. With their team of well-trained technicians, MaintenX self-performs and manages facility maintenance for their clients. In the event there is not a MaintenX technician in an area, the company has established a network of preferred vendor partners throughout the country for continued superior service for their clients. For more than 40 years, MaintenX has been expertly serving multi-location retail stores, restaurant chains and Fortune 500 companies nationwide. matter if the need is roofing or plumbing or electrical services. Rather than engage multiple companies to fulfill a variety maintenance needs, MaintenX provides unique peace-of-mind with their ability to manage a suite of services from curb to roof.