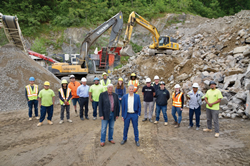 "Some of my employees have lived through tough times,. What I have learned is that it is amazing if you can give someone a real job with good pay. It will change people's lives," said Glenn Pacchiana.
BRIARCLIFF MANOR, N.Y. (PRWEB) November 02, 2022
Thalle Industries President Glenn Pacchiana says companies must provide social support when hiring workers from diverse backgrounds. "Thalle Industries has employed workers who often face difficult social challenges within their families and who require additional support at work," said Pacchiana, whose company operates a quarry, a virtual quarry and provides aggregate and asphalt products.
"We really try to help them with situations they may be experiencing. Whether that includes family, mental health, money problems, it is incredibly important to establish support and trust for all employees. It is our mission to ensure that when an employee joins our company, they feel supported by Thalle both at work and at home. Our mindset is that an employee in a good mental state with a stable home is an employee that will be better equipped in the work environment," said Pacchiana.
Employing workers who have come from difficult backgrounds with limited opportunities has taught Pacchiana that a worker's personal life must be stable for them to have both the mental and physical capacity to work to the best of their ability.
Support for employees ranges from assisting employees in finding housing in safe neighborhoods to inviting bankers to explain the basics of building credit scores, providing opportunities for professional development, providing professionals for mental health support and educating employees on healthy eating habits and taking care of their bodies.
Helping employees during life events like a new baby or the death of a family member builds loyalty between employees and leaders. Without overstepping boundaries, being available to help an employee in need is crucial to the success of a business and its employees.
Fulfillment outside of work should also be a company focus. Facilitating opportunities for employees to gather outside workday and enjoy time together builds friendship and trust. At the annual Thalle Industries picnic, employees have the time to relax with their coworkers without the everyday stress of work. Families are invited to enjoy a day of fun, and the event has become a tradition that enthuses employees.
Most importantly, small businesses must listen and understand what their employees need to maintain a positive work and home life. Developing a safe, welcoming, and supportive environment allows employees to feel comfortable asking for help in times of need.
"Some of my employees have lived through tough times," said Pacchiana. "What I have learned is that it is amazing if you can give someone a real job with good pay. It will change people's lives."