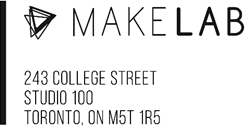 TORONTO, Ontario (PRWEB) April 01, 2020
With events from Collision Conference to the Olympics being cancelled or going virtual, brands are partnering with MakeLab to bring remote experientials to events, letting guests design swag, and mailing it to them in time for the video-conference. And it's blowing up.
Creative technology studio MakeLab looks more like a makerspace than a marketing studio. Filled with 3D printers, laser cutters, and digital embroidery machines, the sixteen-person shop hosts creative-design experiences at events for brands like Microsoft, Adobe, and Holt Renfrew. "We're experts in teaching drunk people how to 3D design," says Jonathan Moneta, the studio's founder and creative director. "We started MakeLab six years ago by bringing 3D printers to a bar, and teaching people how to design. We've learned how to teach sophisticated tools to people at any skill level, and it's turned out to be incredibly entertaining at events."
When COVID-19 forced all events in the foreseeable future to cancel, postpone, or go virtual, the studio saw its pipeline evaporate. Says Jonathan, "We saw our revenue drop to 30% over the coming six months. Just as bad, most of our clients — experiential agencies and event planners — saw their opportunities vanish, with no alternative they could offer their brand clients." That's when the studio brought its creative and events team together, and developed virtual versions of all their interactives. Attendees of virtual conferences design personal swag online — like socks, bowties, totes, and chocolate bars — and get it in the mail before the event, along with a shareable video of their personal item being made at MakeLab studio.
MakeLab says its clients are able to still hit their KPIs and engagement goals, and get far more engagement than under even normal circumstances. "People don't like to give out home addresses during a standard experiential activation. But with a remote creative experience, brands can now engage them in their home, and drive a far more personal and impactful touchpoint."