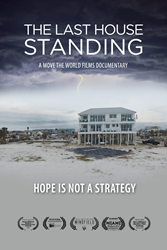 Hope is not a strategy
TAMPA, Fla. (PRWEB) January 27, 2021
The Last House Standing is a documentary film that introduces viewers to people who are living the nightmare of loss and rebuilding. Malibu fire victim Carolyn Carradine says, "It's the most devastating, other than losing my parents, the most devastating thing I've ever been through." People roll the dice on where they choose to live with no true sense of what the hazards really are. Most people have no idea if their insurance will actually help them rebuild after a major disaster. If they have to evacuate, and their house is destroyed, many of the things that were lost can never be replaced.
The Last House Standing features interviews with leading experts in the areas of resilience and disaster preparation including former FEMA Director Brock Long, Water Ambassador Henk Ovink, and author Aris Papadopoulos. Ovink points out in the film, "The simple lesson is that preparedness pays, that cleaning up after a disaster, repairing the damage, collecting your losses is a big effort, while a less bigger effort is to prepare better."
This film is a wake-up call to everyone that we need to take control of our destiny and do whatever we can to protect our homes and lives. We live in a world where everyone races to be first, but when it comes to your home, you want to be the last house standing.
The award-winning documentary film The Last House Standing is now available on public television broadcast stations around the country and is available to stream online.
About the Film Maker:
George Siegal is the Director/Producer of The Last House Standing. He founded Move the World Films, Inc., a nonprofit documentary film company in Tampa, FL. Please visit movetheworldfilms.org to learn more.
You can find broadcast times for The Last House Standing on the film's website.