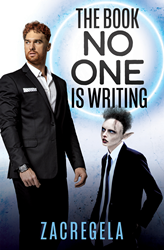 I noticed how liberal politicians were becoming increasingly progressive and outrageously unreasonable, especially during Covid; thus I felt compelled to expose and mock them as a party of immoral hypocrites
ROSEVILLE, Mich. (PRWEB) October 30, 2020
Author Zacregela offers readers a whimsical eye-opener with The Book No One is Writing ($13.49, paperback, 9781632218681; $6.99, e-book, 9781632218698).
The incumbent Bond President Abel Abraham is running for re-election again his Crack challenger, CD Dizzy. In the 24 hours before the election, they reflect on moments in their lives that tested their character and revealed the kind of men voters are supporting.
"I noticed how liberal politicians were becoming increasingly progressive and outrageously unreasonable, especially during Covid; thus I felt compelled to expose and mock them as a party of immoral hypocrites," said Zacregela.
Zacregela is a college graduate who has done quite a bit of research into history and current affairs. He also enjoys sports, painting, music, journaling, traveling, and playing with my dog.
###
Liberty Hill Publishing, a division of Salem Media Group, is a leader in the print-on-demand, self-publishing industry. The Book No One Is Writing is available online through amazon.com and barnesandnoble.com.