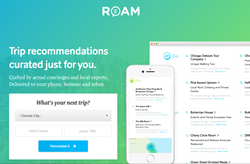 These suggestions are not things I would have stumbled across without dedicating SIGNIFICANT amounts of time to reading travel reviews. -ROAM User
Chicago, IL (PRWEB) May 26, 2017
Following the Chicago launch in Fall 2016, When in ROAM expands nationally. Now custom travel itineraries are available in 20+ US cities, with more cities being added weekly. ROAM is a travel tool that provides personalized travel recommendations from professionally trained experts. Through http://www.WhenInROAM.com travelers can connect to a national network of concierges who in turn provide customized trip itineraries based on the visitor's interests and personality.
Instead of being a service only available to the top 1%, with ROAM, every traveler can have access to a high quality concierge. All of ROAM's concierges are hand selected hospitality professionals who have years of customer service experience and a vast knowledge of their cities. ROAM democratizes concierge services and offers travelers an affordable trip planning tool that saves time and stress.
With the overwhelming amount of information available online, concierge assistance is now more important than ever. But many hotels are eliminating concierge positions to cut costs, so concierges are harder to find in mid-range hotels. With ROAM, any traveler can benefit from the assistance of a concierge, and they don't have to spend $500 a night for it.
ROAM was built by concierges, all of whom are part owners of the company. ROAM's concierges are committed to helping travelers, preserving the profession and taking it into the 21st century.
Travelers can now skip hours of trip research and Internet frustration with the assistance of a local concierge in their destination city. Unlike aggregated review sites that cater to the masses, ROAM's recommendations are personalized for each visitor. From their favorite things to experience to their budget constraints, their ROAM travel guide is custom made by a live concierge. Travelers tell ROAM what they like and a local concierge sends them a customized travel itinerary in 24 hours.
Travelers spend good money on their trips, ROAM ensures they spend it on the right experiences.
"I had one day to spend in NY. I found myself renting a bike from a locally owned shop and checking out the best of Lower Manhattan and Brooklyn's outdoor sites. And the pizza recommendation was spot on!" -Ben, ROAM User. Traveled to New York.
"I loved my itinerary. These suggestions are not things I would have stumbled across without dedicating SIGNIFICANT amounts of time to reading travel reviews. It was well-written and laid out, it made evaluating multiple options easy." -Clayton, ROAM User. Traveled to Chicago.
About Krista Krauss Miller, Chef Concierge & Co-Founder: Krista has spent the last 10 years in the Chicago hospitality and tourism industry. Prior to ROAM, Krista was a boutique hotel concierge. As Chef Concierge, she opened two of the top hotels in Chicago and was a proud member of multiple concierge associations. Krista has been the recipient of various industry honors, including multiple nominations for the Chicago Concierge Rising Star Award and the Illinois Hospitality & Lodging Association's Stars of the Industry Awards.
About Tim Huelskamp, Co-Founder: Tim is a travel enthusiast and entrepreneur. Prior to ROAM, Tim spent the past decade at American Capital, a ~$20 billion private equity firm, where he focused on the investment and management of tech-oriented businesses. Tim has worked with 50+ startup companies and helped raise over $3 billion.