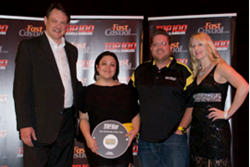 Dallas (PRWEB) May 27, 2015
Which Wich, an award-winning, national, fast-casual sandwich concept, is proud to announce that FastCasual.com's editorial team has released its annual list of the industry's most significant brands and trends, and has awarded Which Wich the 40 spot. The 2015 Fast Casual Top 100 Movers & Shakers publication is now available for download, and comes after an awards gala night in Chicago, timed to coincide with the National Restaurant Association tradeshow.
"Our franchise owners take our commitment to providing an unmatched experience seriously and live the Which Wich vibe in their local communities," said Which Wich CEO, Founder and Chief Vibe Officer Jeff Sinelli. "Receiving this recognition as one of the top fast casual concepts in the country validates the vibe and motivates all of us to continue our mission to make every day better."
This year's list included 75 brands in which judges narrowed down from a pool of 900 nominations from FastCasual.com readers. Criteria included innovation, growth, social responsibility and overall contribution. The last 25 spots on the list went to the year's most influential menu and technology trends as well as the industry's most innovative marketing campaigns.
"The idea behind our Movers and Shakers list is to recognize brands that are going beyond simply generating positive sales and unit growth," said Cherryh Butler, managing editor of FastCasual.com. "The process has a bit more subjectivity to it — to identify brands that are taking big risks and making fundamental changes that could dramatically shake up the fast casual status quo."
Which Wich aims to surpass its 2014 numbers by opening 83 new restaurants in the U.S. and abroad this year. In Q1 alone, the brand made its debut in previously untapped markets such as Portland, Ore., and has continued to attract experienced franchising veterans who see the growth opportunities presented by the brand. As a testament to the brand's potential, franchisees from a variety of established brands have joined the Which Wich family including Dunkin' Donuts, Tropical Smoothie Café, Smashburger, Subway, Schlitterbahn Water Park, Sports Clips and Arby's.
To bolster customer relations and convenience, the brand introduced the first drive-thru locations with self-order touch screen technology in Crystal Lake, IL and Tallahassee, FL. With both locations already enjoying success, the brand is hoping to roll the technology and platform out system-wide.
The company expects to surpass the number of signed franchise agreements by 20 percent in 2015 - 80 domestic and 40 international. Which Wich also hopes to grow their number of opened stores by almost 35 percent, with 83 new restaurants expected to open in new and existing markets this year. The brand has 250 stores that are currently in the site selection, lease negotiation, or construction phase.
The company currently has locations in 38 states and the United Arab Emirates, Mexico, Panama, Guatemala and Qatar. Which Wich is rapidly expanding and territories are available across the United States with a heavy focus in the Chicago, Phoenix, Salt Lake City, Las Vegas, New Orleans and DC-Baltimore areas for growth. The brand is also looking forward to expanding internationally in 2015, with openings in Bahrain, Kuwait, Lebanon and Saudi Arabia. To learn more about the Which Wich franchise opportunity, please click here.
ABOUT Which Wich:
Which Wich® Superior Sandwiches was founded in Dallas in late 2003 by restaurant entrepreneur, Jeff Sinelli. The national sandwich franchise chain is best known for its customizable sandwiches, creative ordering system, and personalized sandwich bag. In 2014, QSR named Which Wich one of their "2014 Best Franchise Deals" and Forbes listed Which Wich as one of their 2014 "30 Best Franchises To Buy." Which Wich is also the recipient of the 2015 Nation's Restaurant News MenuMasters "Healthful Innovations" award. Which Wich currently has 400 locations open or in development in 38 states and 10 countries. For more information, visit http://www.whichwich.com.
###