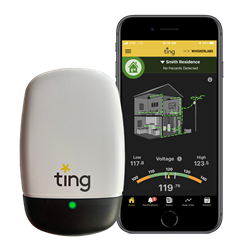 With over 100,000 homes currently using Ting, this round of funding enables Whisker Labs to serve hundreds of thousands more homes with Ting by the end of next year
GERMANTOWN, Md. (PRWEB) November 16, 2021
Whisker Labs, a rapidly growing AI company and developer of Ting, today announced the close of its oversubscribed Series C funding round led by State Farm Ventures, a wholly owned subsidiary of State Farm Mutual Automobile Insurance Company. Whisker Labs is offering a new paradigm in insurtech with Ting, bundling proactive safety and consumer simplicity. This funding allows Whisker Labs to accelerate distribution further and scale the business to meet growing demand.
"With over 100,000 homes currently using Ting, this round of funding enables Whisker Labs to serve hundreds of thousands more homes with Ting by the end of next year," said Bob Marshall, Whisker Labs' Co-Founder and CEO."
As insurance providers want to complement their homeowner offerings with more proactive solutions to improve safety and prevent claims, Ting identifies and alerts the homeowner through its monitoring service to the precise sources of electrical hazards that, left alone, could result in devastating home fires. Capturing and pinpointing fault signal data from inside the house or from local utility power - and certifying complete remediation of those faults – are key components of Ting's turnkey service. The origins and types of faults Ting has identified are many.
"Part of our mission statement is to help people manage the risks of everyday life," said Chris Schell, Senior Vice President-Property & Casualty, State Farm. "Funding for Whisker Labs aligns perfectly with that goal, helping our customers prevent and control losses in their own homes. As evidenced through the many accounts of how Ting has helped identify electrical issues before they cause losses in homes, our customers feel empowered to protect their families and possessions."
"We appreciate our relationship with State Farm," continued Marshall, "and we're excited to continue our work with the insurance industry to accelerate the adoption of Ting's smart sensing and deep learning to deliver safety and peace of mind to customers."
ABOUT WHISKER LABS
At Whisker Labs, our passion lies in solving really hard problems with simple design. Winner of 2021 Best of the Smart Home Awards - Best Use of Machine Learning Category, Ting unlocks incredible insights into electrical anomalies in very fine detail, in real-time, from a single intelligent sensor. Ting helps protect families and homes by preventing electrical fires, drawing on decades of sensing, electromagnetic, and data science expertise. Ting is a turnkey subscription service to monitor and notify homeowners of electrical fire hazards using a DIY smart plug that takes 2 minutes to install. While on the lookout for electrical fire hazards within a home, Ting also monitors the quality of power delivered by electric utilities, identifying utility grid faults that can induce fires, damage appliances, and create electrocution risks inside the home. These same faults can also serve as an ignition source for devastating wildfires.