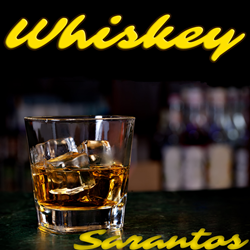 We all have faults and we definitely have weaknesses. We might not alwasy admit it but we do!
Park Ridge, IL (PRWEB) September 13, 2016
Sarantos Releases An Interesting New Country Rock Song & Music Video "Whiskey" - Is It A Lullaby About A Girl Or About Bourbon Whiskey?
Whiskey is one of the most popular alcoholic beverages. Is it any wonder that Sarantos decided to write a song about it? By now, fans have surely seen Sarantos attack a wide variety of genres and styles along with a rare blend of topics and themes. Song lyrics are not only limited to the common cliches like love that most songwriters choose. Sarantos has written so many songs yet still purposefully picks things no one else dares to write about like a child's mind, surgery, veterans, cheating, bubbles, a sunny day and now, even whiskey. In this country rock song called "Whiskey", Sarantos picks an unusual topic but skillfully uses words throughout the song that paint a vivid story that is very relatable. Fan are left wondering if the story is about a girl or about a shot of bourbon whiskey. The song can of course be interpreted both ways and the listener can pick either glass to enjoy. The funny music video centers on an alcoholic who is finally cured of his addiction when he finds the love of his life. Whiskey is replaced by a loving, caring and patient women.
"This song and video is ultimately about human weakness," says Sarantos. "We all have faults and we definitely have weaknesses. We might not always admit it but we certainly do! Some of us are addicted to alcohol, some to women, some the thrill of gambling. The temptations and vices are endless. We are human which means we are not perfect. We are all tempted by something. Maybe we have tasted it. Maybe we have never given in to it but still worry we will one day. Maybe we are actively struggling to free ourselves from its grip. Maybe we have beat it but fear a relapse. Whatever our story, this song and music video is about a man who is always deep in trouble with his addiction. Eventually, thru finding the right person, he is able to overcome his addiction. The right support system is often needed and he is lucky to have finally find one. At some point in our lives, we have all benefitted from the kindness of others. We should remember that and try to give back when we can."
33% of any music-related sales profits from this song are going straight to Alcoholics Anonymous. Alcoholics Anonymous is an international fellowship of men and women who have had a drinking problem. It is nonprofessional, self-supporting, multiracial, apolitical and available almost everywhere. There are no age or education requirements. Membership is open to anyone who wants to do something about his or her drinking problem.
Sarantos' unique sound has been best described by industry insiders as an "emotionally powerful vocal style masterfully united with music that is a fusion of classic '80s rock blended with modern soft rock and pop music."
Since 2014, Sarantos has won over 31 awards with Akademia LA Music and Beat 100, while also being nominated for the International Music & Entertainment Awards and the Hollywood Songwriting Awards. Even without ever using a professional music studio, label, ad agency or radio promoters, two songs "Dreamer" & "What If I Never See You Again" have spent many months in the top 200 on the majors list in the US for radio airplay, according to the Digital Radio Tracker Top 200 charts. On the independent charts, Sarantos has hit the top 10 twice.
*Because Sarantos wants music shared throughout the world, fans can always find all songs, lyric sheets, videos and books on the website. Sarantos openly gives everyone the right to share song MP3s with anyone via email or any social media platforms.
Fans can sign up for the email list to get the inside scoop first and exclusive content available nowhere else.
Facebook:
https://www.facebook.com/Sarantosmelogia
iTunes & Apple Connect:
http://bit.ly/SarantosAppleStore
Spotify: