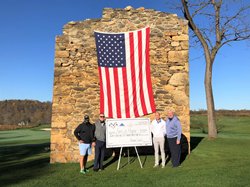 IJAMSVILLE, Md. (PRWEB) November 06, 2020
Whiskey Creek Golf Course today announced that the club's inaugural Folds of Honor Charity Golf Tournament, presented by Flying Dog Brewery, raised more than $20,000 for the nonprofit organization. Representatives from the golf course presented the donation to a Folds of Honor representative on Wednesday, November 4th.
The funds raised will support Folds of Honor, a 501(c)3 nonprofit, in their mission provide educational scholarships to the children and spouses of fallen and disabled service members. Since its founding in 2007, the Folds of Honor organization has carried forth the singular, noble mission of honoring the sacrifice of our service members and educating their legacy.
The inaugural Folds of Honor Charity Golf Tournament, presented by Flying Dog Brewery, was held on Monday, October 19th at Whiskey Creek Golf Course in Ijamsville, MD. The 2-person shamble tournament featured 120 players who enjoyed (socially distant) food and beverages as well as raffles and a competition for any team that included a veteran or active military member.
The donation was recognized on the morning of Wednesday, November 4th as General Manager Ted Goodenow and Director of Sales and Marketing Scott Wisnom were joined by Flying Dog Brewery's Chief Marketing Officer Ben Savage to present an oversized check to Folds of Honor's Director of Golf Relations Allen Wronowski on the 18th fairway.
About Whiskey Creek Golf Course:
Whiskey Creek Golf Club is one of the most popular golf courses in Maryland and is often regarded as one of the best public courses in the state. The signature of the golf course is the 18th hole which was built around the remnants of an old whiskey distillery that operated during the prohibition era. Along with a very unique story, Whiskey Creek Golf Club offers privacy and seclusion along with spectacular views and a very playable design, concepted by architect J.Michael Poellot and Ernie Els, a 2-time United States Open Champion. Play it once and it becomes very apparent why it's considered a must play for all golfers and the home of many prominent fundraising tournaments. Learn more at whiskeycreekgolf.com.