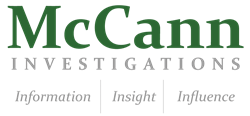 Computer forensics is key to preserving electronic data should voter fraud be suspected.
Houston, TX (PRWEB) August 26, 2014
McCann Investigations, a firm based in Texas that provides digital security and private investigations services, recently published a paper addressing the Top Five Actions to be Taken if Voter Fraud is Suspected. This paper discusses the very serious issues with voter fraud in a digital-centric world. The integrity of the voting process is vulnerable to hacking just as computers and networks are vulnerable.
"Computer forensics is key to preserving electronic data should voter fraud be suspected," said Daniel Weiss, managing partner at McCann Investigations. "Should voter fraud be suspected, proper steps must be taken to maintain the integrity of the data"
"Even though many professionals believe digital voter fraud is still merely on the horizon, it only takes one compromised election cycle to totally destroy the faith that the public has in the election system. It would be wise for all governing bodies that control elections to prepare in advance and be ready to act if and when such a hacking scenario occurs." (Top Five Actions to Take if Voter Fraud is Suspected)
For more information about the services provided by McCann Investigations in the San Antonio area, visit the company's website at http://www.mccanninvestigations.com and follow the company on Twitter at @mccangi.
About McCann Investigations
McCann Investigations is a Texas-based private investigations practice focused on comprehensive investigations incorporating digital forensics, surveillance, undercover work and background checks for clients in various case types. Service areas include intellectual property theft, non-compete enforcement, fraud, embezzlement and family law. McCann Investigators are experts in the latest computer forensics tools and are licensed with the state of Texas. McCann examiners have provided expert testimony and reporting in hundreds of cases across the state.