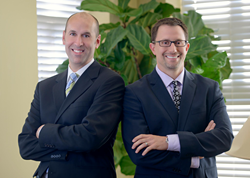 MOORESVILLE, N.C. (PRWEB) December 12, 2018
Drs. Steven White and Brad Haines, founders of White and Haines Advanced Dentistry, are urging people who need dental bridges and dental crowns in Mooresville, NC, to explore their options for same-day solutions. At their modern Cornelius practice, the dentists use a high-tech 3M™ True Definition Intraoral scanner to facilitate the creation of same-day prosthetics that are long-lasting and lifelike.
Each dental crown or bridge crafted by Drs. White and Haines is customized to the individual patient's mouth and needs. Not only is the crown or bridge perfectly fitted to sit comfortably in its designated location, but it matches the color of the surrounding teeth. In addition, the materials used to produce in-house dental crowns in Mooresville, NC, are meant for decades-long effectiveness and reliability. In essence, the crown or bridge blends perfectly into the mouth to form a more complete, natural and healthy smile.
In the past, those who needed dental implants restorations, dental crowns or dental bridges had to wait for days or even weeks before receiving their final restoration. Doctors took messy, uncomfortable impressions of each patient and sent it out to a lab when the quality was no longer in the doctor's hands. With same-day dental bridges and crowns, the team at White and Haines Advanced Dentistry can often eliminate the need for additional appointments, use comfortable intraoral scanner for quick and easy impressions and in-house technology for high-quality care. This added level of convenience is more practical to active patients' lifestyles and limited calendar abilities.
Whether a new dental crown is needed to replace an old filling or damaged crown, or as the final restoration on dental implants, many patients may be candidates for same-day dental crowns in Mooresville, NC.
Anyone interested in learning more about same-day dental crowns in Mooresville, NC are invited to contact White and Haines Advanced Dentistry at 704-896-9535. Referrals from other dental practitioners or physicians are not necessary.
About the Practice
White and Haines Advanced Dentistry is a general dental practice offering personalized dental care to patients in Cornelius, NC. Dr. Steven White offers more than 20 years of experience in general and cosmetic dentistry. He has served as a mentor at the Nash Institute for Dental Learning as well as an instructor with the Advanced Aesthetics Program. Dr. Brad Haines was named a Top 40 Dentist Under 40 in Incisal Edge Magazine and brings more than a decade of experience in general and cosmetic dentistry. Drs. White and Haines strive to understand each patient's unique set of goals to help them reach a healthy smile and they are members of the American Dental Association, Dental Organization for Conscious Sedation and Charlotte Dental Society, among many others. To learn more about Drs. White or Haines or the services they offer at their practice, please visit their website at http://www.drswhiteandhaines.com or call 704-896-9535 to schedule an appointment.