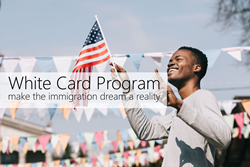 SUNNYVALE, Calif. (PRWEB) December 26, 2020
White Card Program, a universal program for immigrants that will cover up to $12,000 for basic immigration expenses, this week announced their software has officially launched second round (WCP-2020/2).
For those selected applications that will receive the opportunity to immigrate under the existing official immigration programs to countries like Canada, Australia, USA, and Europe, the White Card Program will cover: immigration lawyer services, consulting services, proof of education, confirmation of qualifications, translation and certification of documents, and other financial requirements.
"We believe that people around the world deserve the chance to move to safer, more lucrative countries where they can provide the life they deserve for themselves and their families," said a spokesperson for the White Card Software, LLC. "Therefore, we have developed a software product that makes it easier than ever before to select applicants looking to curate this new life."
The White Card Program is a new alternative to Green Card Lottery (DV-lottery) available to immigrants today.
For those to be considered, the applicants must: have worked in a job that requires a high school education and/or job-specific training for at least a year, have at least a Canadian/Australian high school diploma, take a language test to show English/French proficiency, present no criminal record, show they can support themselves when they arrive, and be between 18 and 50 years old.
"We want our immigrational assistance to be used to the fullest extent, which is why we have specific application requirements that must be met for selection," said the spokesperson. "We hope our business model is one that will inspire people everywhere to contribute to the support of immigrants. Spread the word today."
Applications for business, work, and study immigration will be accepted based on the applicant requirements. The program will hire an immigration consultant to handle each particular immigrant file. In order to apply, members must pay $200 to become a White Card Program member. The program membership is valid for 2-months. After the 2-month mark, members must reapply.
The White Card Program will contact winners via email, phone, and regular mail. The program managers are encouraging all applicants to double-check their contact information.
For more information, visit: https://whitecardprogram.com/