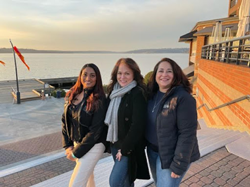 "We are very excited to be part of such a well-respected, global organization. WGC provides a framework for local chapters to impact change in their communities and empowers an expansive network of women to connect and thrive personally and professionally." Sandy Dupleich
SEATTLE (PRWEB) February 07, 2023
Women of Global Change Foundation (WGCF), is proud to announce the formation of the organization's first Seattle Chapter to support social impact projects in the Pacific Northwest. WGCF is thrilled to introduce Sandy Dupleich (President), Diane Gaddis, and Sapna Sheth as our on-the-ground team!
WGCF is a multiple White House award-winning 501(c) 3 organization. The main focus of the WGC local Chapters is to expand collaboration amongst like-minded leaders. Since its inception, the Women of Global Change has impacted communities with educational training, global networks, and local community social impact activism, to create a better world for ourselves and all humankind.
As quoted by the WGC Seattle Chapter President- Sandy Dupleich, "We are very excited to be part of such a well-respected, global organization. WGC provides a framework for local chapters to impact change in their communities and empowers an expansive network of women to connect and thrive personally and professionally."
Our first area of focus for WGCF Seattle Chapter will be to support organizations and programs raising awareness and resources to combat homelessness in youth and families with young children. In 2020, there were 11,751 people experiencing homelessness in the City of Seattle which was a 30.2 % increase since 2010. Youth homelessness affects over 1,500 youth in King County every day. Despite the interest in supporting and funding shelters throughout the Puget Sound region, the numbers are staggering. Supporting youth experiencing homelessness is an honorable mission that requires the Chapter to collaborate with other organizations in the area.
The Seattle WGC Chapter in collaboration with the Abundance of Hope organization as they open its new building in support of the homeless and families who are most in need. "Abundance of Hope Center is a grassroots, woman-founded and family-operated homelessness prevention organization serving our community with holistic, uplifting and nonjudgmental programs and services. We are eager to increase our impact in the community through our new resource center in Rainier Vista neighborhood of Seattle," states Selenna Green, AofH Project Director.
WGC Seattle is committed to serving our local community and this is only the first of many areas of focus for our chapter. If you are interested in supporting our initiative, volunteering, or you would like to join Seattle's growing team please connect with us at https://womenofglobalchange.com/seattle/. To find out more about Abundance of Hope, go to https://www.abundanceofhopecenter.org/.