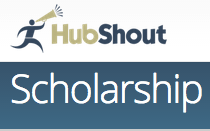 Since 2012, HubShout has awarded six scholarships.
Falls Church, VA (PRWEB) March 27, 2014
On March 14, 2014, HubShout, an online marketing firm specializing in white label SEO services, announced the winner of its Spring 2014 Internet Marketing Scholarship. The scholarship recipient is Farheen Shah, a student at Northwestern University who is pursuing a master's degree in Integrated Marketing Communications.
HubShout established the scholarship due to the success of its white label SEO services. With the recent addition of Premium Press Release, Business Quote, Featured News and other new types of content, HubShout's white label SEO service plans remain strong.
Shah was selected from a field of ambitious applicants. Her leadership, focus and experience with online marketing impressed the HubShout Scholarship Committee. Shah's work ethic and passion for a future in online marketing was evident in her HubShout scholarship application, in which she wrote: "My internships and work experience have only strengthened my career aspirations in the field of online marketing."
The HubShout committee chair was won over by Shah's skills, attitude, professionalism and career goals. In her scholarship application, Shah described her vision for her future, writing, "I aim to pursue a career in brand and advertising strategy so that I can create a relevant brand experience across multiple channels based on consumer insight and consumer behavior. My background in psychology gives me an in-depth understanding of qualitative research methods to understand consumer behavior. I am particularly interested in measuring brand equity, segmentation and customer loyalty while implementing interactive marketing campaigns."
The scholarship is supported by the strength of HubShout's white label SEO services and those who join the reseller program. Since 2012, HubShout has awarded six scholarships. HubShout's white label SEO services adapt to the ever-changing SEO landscape and the white label SEO program continues to thrive.
HubShout will award another $1,000 scholarship in Fall 2014. The application deadline is November 1, 2014 and the winner will be announced on November 14. Universities and colleges that wish to extend the scholarship opportunity to their students should contact HubShout directly.
HubShout is a US based white label SEO reseller, website reseller and full service online marketing firm. Offices are located in Falls Church, VA and Rochester, NY. In 2008, Chad Hill, CEO and Adam Stetzer, Ph.D., President, co-founded HubShout and added white label SEO services in 2009. In 2012 HubShout established its scholarship program in order to give back to the community and support the next generation of online marketers.