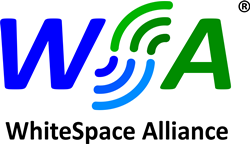 CHELMSFORD, Mass. (PRWEB) March 19, 2019
The WhiteSpace Alliance (WSA) ®, a global industry organization enabling sharing of underutilized spectrum, today announced it has signed a Memorandum of Understanding (MOU) with the IEEE Standards Association (IEEE-SA) to accelerate development and adoption of a next-generation information infrastructure for low cost communication services.
The two organizations will jointly develop and execute a specific project plan on an annual basis. The initial focus of these efforts will be advancing the use of available TV band spectrum ("whitespace") to deliver low cost broadband services. TV White Space holds particular promise for connecting currently underserved consumers at price points appropriate for large rural and remote populations, a solution sometimes referred to as "Frugal 5G". WSA and IEEE-SA are currently defining several activities with relevant stakeholders from developing countries on projects that will involve spectrum sharing for applications such as rural broadband, e-commerce, e-health, smart cities and smart grid.
"This agreement is a significant, formal expansion of our ongoing involvement in IEEE activities," said Dr. Apurva N. Mody, Chairman of WhiteSpace Alliance. "IEEE-SA is the world's preeminent body for identifying, developing and approving interoperable communication standards. Many WSA members are active contributors to these development discussions, and often chair important IEEE standards committees. We look forward to applying our collective expertise in next-generation communication technologies to help bridge the Digital Divide."
"Falling in line with IEEE's mandate to advance technology for the benefit of all, the signing of this MOU with WSA will help bring improved and affordable broadband services to rural communities," said Konstantinos Karachalios, managing director of IEEE-SA. "Our collaborative efforts demonstrate a commitment to technology development and adoption that is inclusive, standards-based and responsive to industry needs."
Shared spectrum solutions such as TV White Space are particularly well suited to delivering broadband services to underserved populations. The technology uses available TV band spectrum to deliver fixed wireless broadband services at distances up to 30 km. The powerful propagation characteristics of TV band broadcast signals make them ideal for providing middle- and last-mile connectivity where wired infrastructure is not cost effective to deploy, and vegetation makes traditional line-of-sight wireless solutions unreliable. TV white space can support a range of current and emerging infrastructure applications, from commercial enterprises to education and government services and also smart grid and smart cities.
WhiteSpace Alliance, developer of Wi-FAR™ and WSAConnect™ interoperability specifications, has a following of more than 200 major commercial, academic, government and regulatory organizations around the world. WSA member organizations benefit from access to technical specifications that decrease development costs; expanded access to global markets, regulators and government agencies; and ongoing marketing support at no additional cost. Consumers benefit from a multi-vendor, interoperable ecosystem that brings down the overall cost of broadband access. For more information on WhiteSpace Alliance, please visit http://www.WhiteSpaceAlliance.org.
About WhiteSpace Alliance
The mission of the Whitespace Alliance (http://www.whitespacealliance.org/) is to promote the development, deployment and use of standards-based products and services as a means of providing broadband capabilities via WhiteSpace spectrum. By promoting the use of standards, the Alliance will enable companies to provide broadband connectivity at reasonable cost. The WSA will also act as an enabler of the emerging white spaces ecosystem by helping to put in place interoperability, conformance, and compliance testing to make sure that our member stakeholders get the needed information & collaborations to succeed both in the market place and with regulatory requirements. Interoperability specifications will allow multiple vendors to enter the market and help to reduce the costs for the consumers. WhiteSpace Alliance promotes the use of IEEE, 3GPP and IETF Standards for use in the WhiteSpaces.
About the IEEE Standards Association
The IEEE Standards Association, a globally recognized standards-setting body within IEEE, develops consensus standards through an open process that engages industry and brings together a broad stakeholder community. IEEE standards set specifications and best practices based on current scientific and technological knowledge. IEEE-SA has a portfolio of over 1,250 active standards and more than 700 standards under development. For more information visit https://standards.ieee.org.