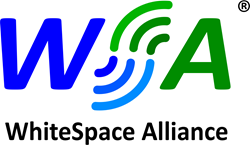 CHELSFORD, Mass. (PRWEB) November 27, 2018
The WhiteSpace Alliance (WSA®), a global industry organization enabling sharing of underutilized spectrum, is applauding a recent United States government initiative to develop a national strategy for utilizing next generation radiofrequency spectrum.
The Presidential Memorandum acknowledges the critical importance of wireless technologies to the nation's economy and security. It directs executive departments and agencies to identify anticipated spectrum requirements for government and non-government users, and develop a plan for improving spectrum utilization to meet those needs. Specific requirements of the national plan include: expanding spectrum access for all stakeholders; developing appropriate standards, incentives and management schemes to ensure efficiency and effectiveness of spectrum utilization; and research and testing to support ongoing technical innovation and leadership.
"We are pleased that a comprehensive, robust approach to spectrum access has been recognized as a national strategic imperative," said Dr. Apurva N. Mody, Chairman of WhiteSpace Alliance. "WSA has been a major contributor to education, technology development, regulatory frameworks, and testing and evaluation for shared spectrum solutions around the world. We welcome the opportunity to contribute to the government's efforts."
New technologies to identify, monitor and control spectrum continue to evolve to support more efficient spectrum sharing. Current methodologies such as cognitive and software defined radios, spectrum sensing and beaconing techniques, and spectrum databases and management systems can dramatically expand access to communications services while ensuring users are protected from interference. Efficient sharing of spectrum allows a variety of commercial and government users to flexibly coexist within frequency bands, and enables all users to take advantage of emerging technical advances.
WhiteSpace Alliance, developer of Wi-FAR® and WSAConnect® interoperability specifications, has a following of more than 200 major commercial, academic, government and regulatory organizations around the world. WSA member organizations benefit from access to technical specifications that decrease development costs; expanded access to global markets, regulators and government agencies; and ongoing marketing support at no additional cost. Consumers benefit from a multi-vendor, interoperable ecosystem that brings down the overall cost of broadband access. For more information on WhiteSpace Alliance, please visit http://www.WhiteSpaceAlliance.org
About WhiteSpace Alliance
The mission of the Whitespace Alliance (http://www.whitespacealliance.org) is to promote the development, deployment and use of standards-based products and services as a means of providing broadband capabilities via WhiteSpace spectrum. By promoting the use of standards, the Alliance will enable companies to provide broadband connectivity at reasonable cost. The WSA will also act as an enabler of the emerging white spaces ecosystem by helping to put in place interoperability, conformance, and compliance testing to make sure that our member stakeholders get the needed information & collaborations to succeed both in the market place and with regulatory requirements. Interoperability specifications will allow multiple vendors to enter the market and help to reduce the costs for the consumers. WhiteSpace Alliance promotes the use of IEEE, 3GPP and IETF Standards for use in the WhiteSpaces.