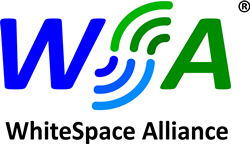 CHELMSFORD, Mass. (PRWEB) February 27, 2019
The WhiteSpace Alliance (WSA®), a global industry organization enabling sharing of underutilized spectrum, believes the US government's latest broadband initiative will accelerate the deployment of shared spectrum solutions to deliver high speed Internet services to underserved users.
The American Broadband Initiative (ABI) is designed to stimulate private investment in infrastructure to make broadband Internet connectivity available throughout the nation, including currently unsupported rural communities. It is part of an overall policy to identify anticipated spectrum requirements for government and non-government users, and develop a plan for improving spectrum utilization to meet those needs.
The ABI's first Milestones Report highlights several developments which should foster greater investment in providing widespread Internet access. Under the direction of the US Department of Agriculture, a new, $600M Rural e-Connectivity Pilot Program has been created, and rural development grant and loan processes have been streamlined. The US Treasury has also included broadband development expenses in its New Market Tax Credit program.
Applications that allow broadcast spectrum to be dynamically shared rather than statically dedicated to specific groups of users can enable a wide range of commercial and government users to coexist within the same frequency bands. This approach optimizes use of available spectrum while ensuring users are mutually protected from interference.
Shared methodologies such as TV White Space are ideally suited to delivering broadband services to rural and remote populations. The technology uses available TV band spectrum to deliver fixed wireless broadband services at distances up to 30 km. The powerful propagation characteristics of TV band broadcast signals make them ideal for providing middle- and last-mile connectivity where wired infrastructure is not cost effective to deploy, and vegetation makes traditional line-of-sight wireless solutions unreliable. TV white space can support a range of current and emerging applications, from commercial enterprises to education and government services.
"Performance, cost and flexibility benefits of shared spectrum connectivity solutions have been demonstrated in remote areas around the world," said Dr. Apurva N. Mody, Chairman of WhiteSpace Alliance. "Expanded access to funding resources will spur these deployments in rural America, especially by smaller, innovative companies that are leading development of these solutions."
WhiteSpace Alliance, developer of Wi-FAR® and WSAConnect® interoperability specifications, has a following of more than 200 major commercial, academic, government and regulatory organizations around the world. WSA member organizations benefit from access to technical specifications that decrease development costs; expanded access to global markets, regulators and government agencies; and ongoing marketing support at no additional cost. Consumers benefit from a multi-vendor, interoperable ecosystem that brings down the overall cost of broadband access. For more information on WhiteSpace Alliance, please visit http://www.whitespacealliance.org
About WhiteSpace Alliance
The mission of the Whitespace Alliance (http://www.whitespacealliance.org) is to promote the development, deployment and use of standards-based products and services as a means of providing broadband capabilities via WhiteSpace spectrum. By promoting the use of standards, the Alliance will enable companies to provide broadband connectivity at reasonable cost. The WSA will also act as an enabler of the emerging white spaces ecosystem by helping to put in place interoperability, conformance, and compliance testing to make sure that our member stakeholders get the needed information & collaborations to succeed both in the market place and with regulatory requirements. Interoperability specifications will allow multiple vendors to enter the market and help to reduce the costs for the consumers. WhiteSpace Alliance promotes the use of IEEE, 3GPP and IETF Standards for use in the WhiteSpaces.