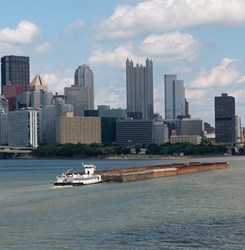 White Space spectrum will provide the critical resource to modernize network coverage to commercial and recreational users.
Vista, CA (PRWEB) August 08, 2013
Metric Systems Corporation (http://www.metricsystems.com), a California-based manufacturer of White Space spectrum wireless networking systems and end-to-end communications solutions, announced results from recent Beta field-testing of its RaptorX VHF/UHF Network Radio. Hosted by the Port of Pittsburgh Commission (PPC), the trial was a tough, real-world application showcasing the superior propagation capabilities of the newly opened unlicensed TV bands, called White Space spectrum. Using the production RaptorX, continuous high-definition broadband wireless video communication was established and maintained over a rugged, densely forested, five-mile (8 km) stretch of the northern Ohio River using predominantly non-line-of-sight propagation.
Based at Georgetown, Pennsylvania, the RaptorX enabled a harbor work boat to consistently access multiple Internet-based streaming videos and web services while underway on the Ohio River between the cities of East Liverpool and Shippingport, PA. The Port of Pittsburgh Commission conducted the test program as part of the commission's ongoing Interoperability Test Bed Program (ITB) to demonstrate and evaluate new technologies and services aimed at enhancing inland waterway safety, transportation efficiency and environmental systems management.
"The use of White Space spectrum will provide the critical resource to modernize and provide continuous network coverage to commercial and recreational users," said James McCarville, Executive Director of the PPC. He hailed the demonstration as a critical element in successfully implementing the Broadband Wireless Waterways Project (WWP).
Carried out under an experimental license from the FCC Office of Engineering and Technology (OET), the trial demonstrated the ability of RaptorX to securely access the locally available White Space spectrum and effectively provide critical broadband enterprise level communication in areas and geography ill-suited for terrestrial microwave and WiFi systems.
Bill Brown, president and founder of Metric Systems Corporation, stated: "The use of White Space cognitive radio systems will find wide application in domestic and export industries such as Energy, Telecommunications and Transportation, providing broadband services in previously under-served or topographically challenging areas."
RaptorX VHF/UHF Network Radio
The RaptorX Wireless Networking Radio is a White Space broadband infrastructure transport system scheduled for FCC certification in Q1, 2014, with subsequent revenue shipments planned for late Q1, 2014. The RaptorX family supports all VHF and UHF White Space channels at full FCC power output. The RaptorX is the initial offering of a broad line of equipment solutions for backbone and edge use.
About White Space Spectrum
On September 10, 2010, the Federal Communications Commission (FCC) issued a report and order that permits the cognitive use of TV White Space spectrum. These rules open up the opportunity for the development and manufacture of communications solutions for unlicensed use of White Space. VHF and UHF spectrum which provides superior propagation and building penetration compared to licensed WiFi bands operating at 2.4 and 5.8 GHz.
As Metric Systems Corporation readies for FCC certification and revenue production, in early 2014, it will continue to test and demonstrate the effectiveness of its RaptorX White Space Networking System to industry leaders in the energy, telecom and transportation sectors.
For more information on RaptorX or to schedule a White Space demonstration, contact 800-549-7421 or visit http://www.metricsystems.com.
Metric Systems Corporation
Metric Systems Corporation, founded in 1992, provides wireless networking equipment and end-to-end wireless networking systems in the 50 MHz to 3 GHz spectrum to industry and government. It has played a key role in providing the FCC, Microsoft Corporation and international agencies with equipment and solutions to technically and commercially evaluate national White Space opportunities. Metric Systems holds key U.S. and foreign patents in spectrum management and wireless networking.