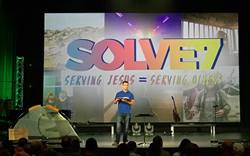 "It may not look like the service you are used to seeing on Sunday, but we're doing church in a different kind of way. We'll be worshiping with our hands instead of our voices," says Joe Porter, communications director, Whitewater Crossing Christian Church.
CLEVES, Ohio (PRWEB) August 10, 2018
Attending a church service isn't the only way to grow your faith.
Joe Porter, communications director at Whitewater Crossing Christian Church, says this very notion is what initiated a summer-long service project that culminates on August 12, 2018 on Whitewater's campus in Cleves, Ohio.
The service event, open to anyone in the community, is called Solve 7 Sunday.
"Solve 7 Sunday is a day where people can come to Whitewater and serve together on more than 7 different projects. It's a Sunday where we will be serving our community and our world, rather than holding our regular services," says Porter.
The family-friendly opportunity is a way to "see faith in action," explains Porter, who says it's the first time Whitewater has ever held this kind of special event in place of regular service.
"It may not look like the service you are used to seeing on Sunday, but we're doing church in a different kind of way. We'll be worshiping with our hands instead of our voices."
Solve 7 is a larger Whitewater initiative focused on solving seven of the biggest problems in the local community and around the world. The initiative seeks to help remove barriers in someone's life in order to create more spiritual opportunities in his or her future.
Throughout the summer, Whitewater attenders have been helping others across Solve 7's focus areas: feeding the hungry; teaching the uneducated; clothing the poor; finding the forgotten; healing the sick; housing the homeless; and rescuing the slaves.
Now, Solve 7 Sunday marks the high point of that service journey. "It's great to be able to do things for others and serve the community, and Solve 7 Sunday gives us a chance to come together, connect with one another, and do that. We will also collectively celebrate all the impact made throughout the entire summer."
Under its theme, Helping People, the community service day is designed for anyone to attend. "We say it's also for a friend who 'isn't that into religion or church services,'" adds Porter. "One of the things we love about Solve 7 is how it's resonating with everyone, and that includes those who don't know Jesus but want to help others."
Serving opportunities range from packing meals for homeless people in Cincinnati, to encouragement cards and paintings, to packing basic hygiene products for those in need.
Other activities people can choose from include:

Help Build Hope Home Build in partnership with Habitat for Humanity;
Hope International Food Pack for meals to send to Swaziland;
Clothing sort for people both locally and globally;
Various activities to help Miamitown Elementary;
Cancer care bags for people undergoing chemotherapy treatment;
Operation blessing bags/homeless blessing bags;
Packing pencils for local school classrooms;
Supporting community feeding programs in partnership with the Cleves BLOC garden;
Picking up trash, doing yard work and other outreach in a local neighborhood.
Porter says, to date, those who have registered have done so because they want to build relationships with others while making a tangible impact on the world. "People will have a chance to make an impact in their local community. We think that, just maybe, their life will be impacted as well," says Porter.
The event takes place on Sunday, August 12, 2018 from 8:45 AM to 12 PM EST at Whitewater Crossing, located at 5771 OH-128, Cleves, Ohio. All ages and all people are invited to attend. Low-mobility options are available.
Attendees do not need to register beforehand. Learn more at solve7.org or by calling (513) 661-5811.
To learn more about Whitewater Crossing, visit https://whitewatercrossing.org/