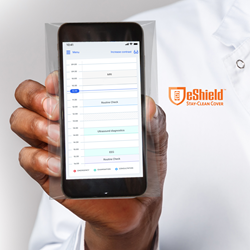 Think of it as PPE for your phone or tablet.
NILES, Ill. (PRWEB) June 17, 2020
eShield™ Stay-Clean™ covers are designed to quickly and easily cover and seal the high touch surfaces of handheld devices to reduce the risk to yourself and others with whom you come in contact with from cross contamination in non-sterile environments. Surface barriers are an essential part of proper infection control protocol.
There are many factors to consider while working to reduce well-known health-associated infections or health-acquired infections (HAIs), and added protection is needed as we learn more about COVID-19 in the reopening of physician offices, elective procedures, and the workplace as a whole.
"Seeing the challenge the medical industry is facing, it was a natural progression for our team to develop a less expensive, non-sterile cover due to our background with the FDA approved line of eShield™ Sterile Covers, to help reduce transmission," said Steve Whitney, President of Whitney Medical Solutions. "Handheld devices can sometimes be a trojan horse in medical settings for bacteria, viruses, and other pathogens. We are proud to be able to support the medical industry in their work – easier and safer."
Numerous studies have shown the high degree to which cell phones and tablets are contaminated – even in hospitals and medical facilities. While it is widely accepted that hand washing is one of the most effective ways to prevent the spread of infection, its benefits are diminished when a contaminated device is touched. eShield™ Stay-Clean™ covers make the reduction of cross contamination from high touch surfaces easier, quicker, and less risky than disinfecting the device itself, multiple times daily, by replacing the disposable cover between contact with groups, meetings, or patient visits.
Stay-Clean™ features a tear-resistant barrier protection using clear, FDA-approved material that is touch sensitive, even with double gloves. With an adjustable self-adhesive closure, you can get a snug fit and better touch screen performance. Designed for single use, Stay-Clean™ is disposable and recyclable. Manufactured in the USA.
If you are interested in learning more about eShield™ Stay-Clean covers, or would like to try a sample, please visit http://www.StayCleanCovers.com.
About Whitney Medical Solutions:
Whitney Medical Solutions™ is a designer and manufacturer of medical supplies and medical devices. Founded in 1984, Whitney has served the medical community by developing innovative products for nearly 40 years. Focused on the medical community and the needs and issues that prevent medical professionals from getting their jobs done efficiently and effectively, Whitney finds Real Solutions For Real Problems™ in healthcare environments. Contact Whitney Medical Solutions at (800) 338-4237 or visit their website at Whitney Medical Solutions.