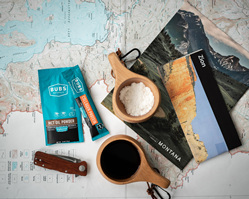 "Over the last three months, we've gotten to know the BUBS Naturals products and people, and I'm so impressed with their commitment to community, sustainability, and quality. They're a natural fit for our Whole30 Approved partner program, and their creamer is already a favorite of my HQ team."
ENCINITAS, Calif. (PRWEB) April 14, 2020
The Whole30 team chooses to add BUBS Naturals Collagen and MCT Oil Powder to the Whole30 Approved Program.
The Whole30 Approved® label is designed to let consumers know a product is 100% compliant with the rules of the Whole30 program and that the product line and company who stands behind it has been vetted by the team. Furthermore, all Whole30 Approved products containing animal protein have met the established Animal Welfare Standards, as created in partnership with the ASPCA.
BUBS Collagen and BUBS MCT Oil Powder are both already Keto diet approved, Paleo diet approved, gluten free and dairy free, which is why they're a perfect fit for the Whole30 Diet. BUBS Naturals only uses sustainably sourced, grass-fed, pasture-raised peptides from Brazil for their collagen, falling right in line with rule number one of the Whole30 diet: Eat real food.
"BUBS Naturals is beyond excited to be an approved partner with The Whole30. Their mark on the health and wellness world is untouchable and they're responsible for positively changing millions of lives through healthy food choices," said Sean Lake, Co-Founder of BUBS Naturals. "The fact is we've been chasing them for two years trying to get their attention. Well, good things come to those who wait…or who stalk them endlessly…and now we proudly carry their Whole30 Approved logo on our Collagen and MCT Oil Powder!"
"The excitement is mutual!" said Melissa Urban, Whole30 co-founder and CEO. "Over the last three months, we've gotten to know the BUBS Naturals products and people, and I'm so impressed with their commitment to community, sustainability, and quality. They're a natural fit for our Whole30 Approved partner program, and their creamer is already a favorite of my HQ team."
The Whole30 Program asks that, for a full 30 days, individuals completely eliminate the foods deemed the most commonly problematic in four areas: cravings, metabolism, digestion, and immune system.
During the elimination period, one should pay careful attention to improvements in energy, sleep, digestion, mood, cravings, focus, anxiety, self-confidence, chronic pain or fatigue, athletic performance and recovery, and any number of other symptoms or medical conditions.
At the end of the 30 days, systematically reintroducing foods allows one to pay attention to any changes in health, habits, or mindset.
Wondering what rules come with the Whole30 Approved Program?
The first rule is simple: Eat real food. Real food is food that has a simple or clearly recognizable list of ingredients, or no ingredients at all, because they're whole and unprocessed.
On the Whole30 Program, one must not eat added sugar, either real or artificial. There's also no dairy, no carrageenan, MSG, or sulfites.
"We have a personal relationship with every Whole30 Approved partner, and feel confident that their products, core values, and mission are in line with ours and that of our community," Whole30 states on their website.
More About BUBS: BUBS Collagen Protein comes from grass-fed, pasture-raised cattle in Brazil. Our MCT Oil Powder is derived from 100% sustainably sourced coconuts, and is plant based and vegan. Both product offerings are free of gluten, soy, nuts, and corn.
BUBS goes to great lengths to find farmers and manufacturers that meet rigorous and tight standards to maintain our high supply chain benchmark, reaching nothing short of the pinnacle of purity when it comes to our products. Learn more about the brand health benefits by visiting https://www.bubsnaturals.com