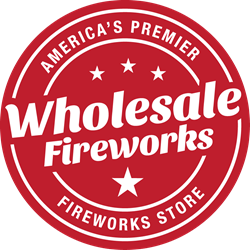 At Wholesale Fireworks we take fireworks safety very seriously
ANDOVER, Kan. (PRWEB) July 01, 2014
With only five days left to plan and purchase fireworks for this Fourth of July, Wholesale Fireworks is reminding the public that it's important to review fireworks safety tips before celebrating our nation's Independence Day. "At Wholesale Fireworks we take fireworks safety very seriously. We want to make sure folks know how to properly shoot fireworks so everyone has a great and safe Fourth of July celebration," Jacob Marietta, Wholesale Fireworks.
The following safety tips can be found on wholesalefireworks.biz and are endorsed by Consumer Product Safety Commission:

Always read and follow label directions.
Have an adult present.
Buy from reliable sellers.
Use outdoors only.
Always have water handy (garden hose and bucket).
Never experiment or make your own fireworks.
Light only one firework at a time.
Never re-light a "dud" firework (wait 20 minutes, then soak it in a bucket of water).
Never give fireworks to small children.
If necessary, store fireworks in a cool, dry place.
Dispose of fireworks properly by soaking in water, then disposing in trashcan.
Never throw or point fireworks at other people.
Never carry fireworks in your pocket.
Never shoot fireworks in metal or glass containers.
The shooter should always wear eye protection
Never have any part of the body over the firework.
Stay away from illegal explosives.
Wholesale Fireworks owns and operates ten locations in the Wichita area including Manhattan, Marysville, Junction City, El Dorado and other neighboring communities. For more information, please visit Wholesale Fireworks store locator.
Wholesale Fireworks is a family owned business and family takes Top Priority. With this in mind, Wholesale Fireworks is a proud partner with the Folds of Honor Foundation providing financial aid for children of fallen military men and women to complete their educations. They have created a "Folds of Honor Firework" to be sold over the Fourth of July holiday in all locations. Proceeds from the sale of the 200-gram firework fountain will benefit the Folds of Honor Foundation. In 2013, sales from the Folds of Honor Firework provided thirty three scholarships totaling $168,000 to the Folds of Honor Foundation.
About Wholesale Fireworks:
Wholesale Fireworks operates out of Andover, Kansas with retail and roadside firework outlets in Kansas, Missouri, Oklahoma, Texas and Nebraska and is America's premier wholesale firework store. Wholesale Fireworks offers customers The VIP Club completely free with no obligation to purchase. No login or passwords required simply sign up for Wholesale Fireworks VIP Coupons and offers.
Website: wholesalefireworks.biz
For Interviews, contact: Butler Burdine, butlerburdine(at)yahoo(dot)com, 504-710-4001