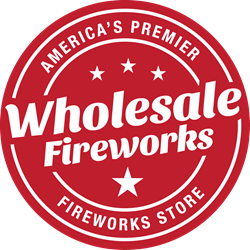 We're very excited to offer these products to our wholesale and retail customers
Andover, KS (PRWEB) June 23, 2014
Wholesale Fireworks, distributor of World-Class brand fireworks, announce the top ten products for the 2014 firework season. Top products include: One Bad Mother, Fighting Rooster, Gorilla Warfare, Frog Prince, American's Fountain, Bigger Than Yours, Excalibur, Heads Up, Goliath, and Loyal To None. Performance videos for all products can be found on Wholesale Fireworks website and product pages.
"We're very excited to offer these products to our wholesale and retail customers." Jacob Marietta, family member and owner of Wholesale Fireworks mentions, "We are always looking for bigger, brighter and more exciting products to bring to our customers each year."
Wholesale Fireworks with Fold of Honor Foundation is offering a 500 gram red, white, & blue special World, Folds of Honor, at a promotional price. For each "Folds of Honor" firework sold, $10 will go directly to scholarship opportunities to children and spouses of fallen and wounded military. The product will be available at all participating locations.
"The Folds of Honor Foundation represent two issues that our family places high priority on—Family & Education," says Jacob Marietta "We want to help the deserving families of our fallen servicemen and women who have given the ultimate sacrifice for us and our families, achieve their education goals."
Recently, Wholesale Fireworks launched a revamped website. The new website will be updated regularly with news of products, wholesale and dealer information, events, and fundraising and store locator. Visitors are encouraged to explore the website and sign up for VIP club to receive coupons and news.
"Our website makes shopping for fireworks stress-free," said Jacob Marietta. "Customers can view our product videos to see our fireworks in action." Wholesale Fireworks recommends viewing new product information prior to shopping. "If you want to plan the perfect fireworks display, our product videos can provide some great insight."
View more Wholesale Fireworks here.
About Wholesale Fireworks
Wholesale Fireworks operates out of Andover, Kansas with retail and roadside firework outlets in Kansas, Missouri, Oklahoma, Texas and Nebraska and is America's premier wholesale firework store. Wholesale Fireworks offers customers The VIP Club completely free with no obligation to purchase. No login or passwords required simply sign up for Wholesale Fireworks VIP Coupons and offers.
Media Contact
Butler Burdine
(504) 710-4001