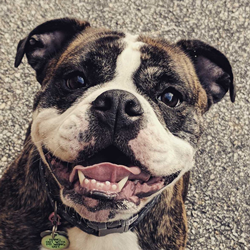 "Ground transport is a safe alternative for all pets restricted by the airlines." --Walter Woolf, VMD, Air Animal, founder and CEO
TAMPA, Fla. (PRWEB) May 18, 2021
Many airlines around the world do not accept brachycephalic breeds for pet travel or pet shipping advises Air Animal Pet Movers. The bans include bulldogs, pugs, Pekingese, Boston terriers, French bulldogs and other "mushy-faced" breeds. This applies to mushy-faced cats, too.
"Why? They are adorable. But their narrowed and pinched nostrils, shortened airways and narrowed windpipes cause life-threatening breathing difficulties during transport," said Air Animal Pet Movers founder and veterinarian, Walter M. Woolf, VMD.
Here are four tips about relocating brachycephalic pets:

"Dogs only have sweat glands on the tips of their noses and the pads of their feet. "Mushy faced" dogs are only able to cool their bodies by moving large volumes of air across their narrowed throats and extended tongues," Woolf explained. "Extended and engorged tongues are dog radiators expelling body heat. On the other hand, cats don't pant—at all."
Some U.S. and international airlines accept brachycephalic breeds for transport but ONLY when the air temperature is lower than 80 degrees Fahrenheit (27 degrees Celsius) at origin, all transit points and destination. For up-to-date lists of banned pets, see the airline websites.
For up-to-date information about heat embargoes, please review the Air Animal blog.
"Ground transport is a safe alternative for all pets restricted by the airlines," added Woolf. "Air Animal offers a network of trusted ground transport service partners throughout the USA. We also suggest pet parents of brachycephalic breeds check the airline websites for information."
About Air Animal
Air Animal has helped more than 55,000 families move their 110,000 furry, feathered and scaly pets around the globe since 1977. They welcome pet move authorizations and referrals from major corporations, relocation management agencies, household goods movers, veterinarians, families, U.S. military and government transferees. Get the best in animal care and transportation. Air Animal is an appointed and endorsed IATA air cargo sales agency working with all airlines that move animals. They are an Indirect Air Carrier cleared for tendering live animals to airlines by the U.S. Transportation Security Administration. See airanimal.com to learn more about Pet Moving Made Easy®.