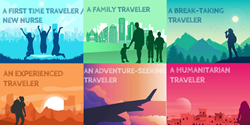 There are as many reasons for deciding to become a travel nurse as there are travelers. As healthcare staffing experts, we do hear some common themes.
BOCA RATON, Fla. (PRWEB) November 13, 2019
Travel nurses, so named because they "travel" from location to location, fill short- and long-term staffing needs at hospitals across the U.S. The popularity of travel nursing is in part due to a decades-long nursing shortage that creates temporary staffing shortfalls in hospitals. The need for travel nurses shows no signs of easing, and a strong healthcare employment market means that skilled healthcare professionals have more career options than ever.
Many RNs choose to travel because of the enticing travel nurse pay and the opportunities for career advancement. But sometimes the reasons for choosing travel nursing are intangible: adventure, experience, time-off, an opportunity to give back. Because it's key for employers to understand the motivations behind career choices, top travel nursing agency, American Traveler is sharing six inspiring traveler stories, from nurses who have decided to travel for reasons and lifestyles that are as different as can be.
1. A First Time Traveler / New Nurse
Full of energy and enthusiasm, our agency's first-time travelers want to see and do as much as they can, explore new cities, meet new people and work in new clinical settings. Real Traveler Story: Young and road tripping with friends, Melissa's goal was to visit all of California's main attractions, especially San Francisco.
2. A Family Traveler
Many of American Traveler's RNs take the journey with family -- including partners, kids, and even pets -- creating priceless life experiences for the whole gang. Real Traveler Story: Tamara is a Certified Surgical Tech who traveled with her three children while finishing up nursing school.
3. A Break-Taking Traveler
Some RNs travel so that they can spend their time off seeing the world and pursuing their life-passions and hobbies. Traveling gives them the freedom to choose when and where they work. Real Traveler Story: An Operating Room RN who travels so that she can spend her time off seeing the world and pursuing her passions. Chef, blogger, skateboarder and freelance photographer: this RN does it all.
4. An Experienced Traveler
With multiple assignments on their resumes, experienced travelers know the drill. Hospitals want to hire them, and they can count on a steady stream of work. Real Traveler Story: Stephanie just completed her 30th assignment with American Traveler. She's worked consistently for years, most recently in Alaska where she did a lot of exploring.
5. An Adventure-Seeking Traveler
"Adventure Travelers" are known for non-stop sightseeing and thrill-seeking. They're into sharing their photo-friendly explorations on social media. Real Traveler Story: Ashlee is a non-stop wanderer. She wants to do it all! East Coast to West Coast and beyond. She is dedicated to sharing on social media and encouraging others to follow their dreams.
6. A Humanitarian Traveler
Some of American Traveler's most altruistic RNs take their skills to locations where the less-fortunate need specialized care. Traveling gives them the flexible schedule and the earning power to donate their time. Real Traveler Story: Amy, a Surgical Tech takes her skills to other countries to help individuals in need of medical treatment.
Resource: Types of Travelers - Infographic
About American Traveler
American Traveler Staffing Professionals is a healthcare staffing agency that staffs nursing and allied health professionals at more than 4,500 hospitals nationwide including over 80% of the largest hospital systems in the United States. American Traveler is GSA-approved and a go-to staffing source for temporary and permanent registered nurses, occupational therapists and physical therapists. The company has continuously demonstrated the quality of its healthcare staffing services by earning the Joint Commission's prestigious Gold Seal of Approval since 2005.