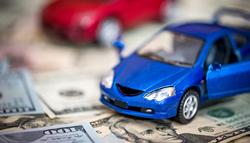 "Auto insurance can be really expensive in some areas of the United States. Local legislation, population density, geographical layout, and criminality are the main reasons why carrying car insurance will cost you more," said Russell Rabichev, Marketing Director of Internet Marketing Company.
LOS ANGELES (PRWEB) October 17, 2019
Carinsurancehints.com has launched a new blog post that explains the main reasons why car insurance is extremely expensive in some parts of the United States
For more info and free quotes, visit http://www.carinsurancehints.com/car-insurance-expensive-states/

Legislation. For the fifth time in a row, Michigan receives the title of the most expensive state. It's extremely high average premium of $2,239 (64 percent higher than the national average) is linked with the state's legislation. Michigan has a "unique" no-fault system that allows the victim to ask for unlimited compensation. PIP limits are regulated at the state level, but in the case of Michigan, there are no limits to medical benefits. Premiums are high in other states with generous PIP coverage limits.
The number of uninsured and underinsured drivers. A high number of uninsured/underinsured drivers means that the insurers will have problems recovering reimbursement money from guilty drivers. Florida and Louisiana are perfect examples for this case. In Florida, more than 25% of drivers are uninsured, while in Louisiana, the number is around 13%. As a result, the premiums in Florida is $2,050, which is 50 percent higher than the national average. Louisiana drivers will have to pay on average, $2,126, which is 56 percent higher than the national average.
Population density. A higher density means more cars on the roads and more exposure to traffic accidents. Rhode Island is the smallest state, but it has a population of over 1 million people. The traffic is highly congested and lots of drivers jam-packed in a small area usually leads to accidents. The average premium in Rhode Island is $1,852 or 36 percent above the national average.
Criminality. Car theft, riots, and vandalism rates differ by state. These factors are taken into consideration by each insurer. States like Alaska, New Mexico or Nevada has the highest car theft rates and premiums reflect this sad reality.
For more car insurance info and money-saving tips, please visit http://www.carinsurancehints.com
Carinsurancehints.com is an online provider of life, home, health, and auto insurance quotes. This website is unique because it does not simply stick to one kind of insurance provider, but brings the clients the best deals from many different online insurance carriers. In this way, clients have access to offers from multiple carriers all in one place: this website. On this site, customers have access to quotes for insurance plans from various agencies, such as local or nationwide agencies, brand names insurance companies, etc.