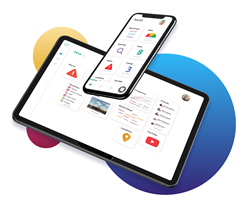 Cyber Dive brings on Co-Founder of Make-A-Wish Foundation as they work to revolutionize modern parenting by making social media a parenting tool.
MESA, Ariz. (PRWEB) December 07, 2020
Cyber Dive brings Bill Drury, Co-Founder of Make-A-Wish Foundation, on as a Senior Executive Advisor. This progressive tech startup has designed proprietary software, built by in-house engineers, that presents a child's online data to their parents in an unbiased manner. The company positions itself as a parenting tool that brings awareness to children's mental health in correlation with their online activity. Compared to competing parental monitoring services that limit the parent's access to data based on their device, Cyber Dive's platform is equally compatible with all iOS and Android devices.
Mr. Drury's Support For Cyber Dive
Bill Drury's passion for bettering the lives of children and families aligns with Cyber Dive's goal to strengthen parent-child relationships. As a Co-Founder of the Make-A-Wish Foundation, Mr. Drury was involved in initial decisions that have paved the way for the national nonprofit, positively impacting the lives of thousands of children with terminal or life-threatening medical conditions.
"Under the dedicated leadership of our Co-Founders, Jeff Gottfurcht and Derek Jackson, Cyber Dive is parachuting in to address the harm that social media is causing children. I am honored to be a part of this forward-thinking company. Cyber Dive is superior to every other content moderation company in this industry. It will revolutionize the way parents raise healthy-minded children."- Bill Drury, Senior Executive Advisor of Cyber Dive
Mr. Drury has been recognized among Arizona's Top 100 Lawyers for his impactful charitable contributions and success in the courtroom. In his more than 30 years of experience, Mr. Drury has tried hundreds of cases and achieved a notable record of success as an attorney. He remains active in numerous professional organizations and has held a variety of prestigious positions such as a member of the American Board of Trial Advocates, former chairman of ALFA International, Fellow of the Litigation Counsel of America, is a founder and former chair of the American Law Firm Association, a member of the Drake University Board of Trustees, is past chair of Drake University's National Alumni Board and is a member of the Arizona State University Sun Devil Club.
"Mr. Drury has the same passion for helping children that we have here at Cyber Dive, and we are thrilled to have him on board. We created the one tool that allows parents, for the first time, to see everything that their kids are doing on social media regardless of whether they use iOS or Android. They have a screaming pain to be involved again. Every other tool out there is like Flat Earthers, judging every fact through the lens of an opinion. And that's how we are different; we won't judge or try to convince you of our opinions. We are here to be your advocate, give you the facts and allow you to make the decision of what is best for your child and family." - Jeff Gottfurcht, Co-Founder and CEO of Cyber Dive
Cyber Dive's Progressive Solution
"It's so amazing to have Bill Drury see the value in what we have built and join the Cyber Dive team. Mr. Drury is someone who created an incredible organization that changed the world positively. That's our plan here too; to make social media something that is a great part of parenting rather than something to be afraid of. Now you can have the ability to make more informed decisions about the good and bad that your children are seeing on social media." - Derek Jackson, Co-Founder and CTO of Cyber Dive
Cyber Dive aims to eliminate the relevance of parenting styles when using their platform. The service encourages parents to take the factual information presented and parent their child however they see fit. The company's solution is free and gives parents the ability to monitor multiple social media accounts including Instagram, TikTok, Snapchat, Google, YouTube, VSCO and Discord, all on one platform.
Cyber Dive's dashboard provides insight into what their child is saying online, who they are interacting with, the content they are posting, how active they are on specific social platforms, what they are searching for online and more. The tech startup plans to innovate and progress alongside social media by adding the latest social platforms in an effort to bridge the gap that parents face when allowing their children to be online.
The tech startup has quickly caught momentum in the content moderation industry with its innovative business model and unique solution. During the company's seed round, their business model raised over $1.3 million in capital. In less than two years, Cyber Dive's founders have utilized their experience and influence in the business and technology industry to grow their company to a team of twenty. They have successfully been pushing through the tough times of COVID-19 and have plans to continue their growth in 2021.
About the Founders
Co-Founder and CEO, Jeff Gottfurcht, is the first person in the world to summit Mt. Everest with Rheumatoid Arthritis. He worked on Wall Street for 14 years as a Senior Vice-President at leading global financial firms. As a father, he is committed to finding an effective solution that can protect children online while initiating important parent-child conversations about their child's experiences on social media.
Co-Founder and CTO, Derek Jackson, is an ex-military intelligence officer who previously served as a Captain in the U.S. Army, where his intelligence work focused on the social media activity of U.S. adversaries and radical insurgents. Jackson's cybersecurity expertise has been the driving force in creating Cyber Dive's software that can protect children from potentially traumatic and dangerous online situations.
To learn more about Cyber Dive's platform, mission and team: Visit CyberDive.co.