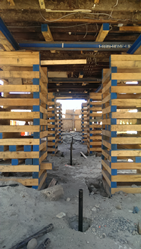 "Soil issues and changing weather patterns are making foundation stability needs more imperative than ever," said Dara Macias, Cantsink director of sales.
ATLANTA (PRWEB) April 11, 2019
With experts predicting a wet Spring and flooding issues in many parts of the nation, Cantsink is showcasing how its patented helical piles provide permanent support for homes and buildings undermined by soft or saturated soil.
Predictions for more rainy conditions have arrived right on the heels of the wettest winter on record for the U.S. For construction professionals, Cantsink products offer the kind of secure underground support that keeps new projects stable and level for generations in any weather conditions. And for existing buildings with foundation settlement issues, Cantsink's patented helical piers offer a permanent, cost-effective remedial solution.
At a recent show for home moving professionals in Dallas, Cantsink offered a case study on its role in helping a certified Cantsink contractor save an historic church in coastal North Carolina from storm surge and hurricane flooding.
The 140-year-old Davis Free Will Baptist Church in coastal Davis, NC, was sinking into the soft, wet soils of this low-lying community on the Core Sound just a ferry ride away from the Cape Lookout National Seashore. Originally built of wood, brick, and block in 1879, the million-pound structure has flooded multiple times amid the increasing frequency of hurricane-force wind, rain and storm surges.
After loading the entire church structure onto steel beams to elevate it more than three feet, the crew excavated below at strategic points for some 300,000 pounds of footings. Work was challenging in rainy conditions during the elevation. The water table lay just four inches below the ground, and crew members pumped more than four million gallons of water from underneath the church to facilitate their work.
Before completing the elevation that lifted the church above the dangers of rising water, crews installed 30 underpinning assemblies, using Cantsink helical piers below the new footings of the church to ensure it remains secure and undisturbed by future rains and tides. Preservation of the church was an important community event. The church's historic presence provides a key landmark for area residents, who were concerned about the threat to the building's stability. Excitement about this project, which will keep it secure for succeeding generations, prompted front-page stories in the local newspaper.
"Soil issues and changing weather patterns are making foundation stability needs more imperative than ever," said Dara Macias, Cantsink director of sales. "With 30 years in the foundation stability business, Cantsink has the expertise and the extensive product line to address the specific need of each location cost-effectively."
Helical piers can be used in restoration following flooding or extreme weather, or as a preventive measure for structures in a vulnerable location. They offer a valuable solution for lasting structural stability in harsh environments.
Cantsink helical piers are ideal for remedial work under foundations and other structures that are sinking or losing alignment. They can help property owners address new elevation requirements as building codes and flood zone maps change, as well as being instrumental in storm recovery. However, the best investment is construction that begins with proven protection.
Cantsink provides its certified installers with hands-on training, lead generation, engineering and marketing support. Installation is fast, requiring no curing time, which helps keep projects on time and on budget. Cantsink helical piers are made of 100% U.S. steel in the company's recently expanded manufacturing facility, which assures quick turnaround on orders.
At Cantsink, experts provide top quality customer service along with the company's patented helical piers, which are tested and certified by the International Code Council. The ICC is an independent, member-focused association dedicated to developing model codes and standards used to construct safe, sustainable, affordable and resilient structures. This means an independent organization has verified the quality and performance of specific Cantsink products.
For more information on Cantsink's patented helical piers or becoming a certified Cantsink installer, visit http://www.cantsink.com.