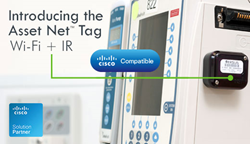 "Hospitals can now have the best of both worlds — enterprise visibility with Cisco Wi-Fi, plus the ability to easily add precision locating for advanced workflow and patient flow optimization."
Traverse City, Michigan (PRWEB) April 07, 2016
Versus Technology, Inc. announced that two of its products, the Asset Net™ Tag and Advantages™ Asset Management real-time locating solution have successfully achieved Cisco compatibility certification with Wireless/Mobility - Cisco Compatible eXtensions (CCX).
The Internet of Everything (IoE) continues to bring together people, processes, data and things to enhance the relevancy of network connections. As a member of the Cisco® Solution Partner Program, Versus Technology is able to quickly create and deploy solutions to enhance the capabilities, performance and management of the network to capture value in the IoE.
The new dual-technology Asset Net Tag from Versus emits both CCX and infrared (IR) locating signals to combine the precision of IR with the ubiquity of Wi-Fi. This allows hospitals to start with Wi-Fi asset tracking for campus-wide fleet visibility, then add the precision of wireless or wired infrared sensors where necessary to definitively locate assets to the room level. The Versus Advantages Asset Management software displays both Wi-Fi and IR location data. In areas where IR locating is used, hospitals can accurately analyze equipment utilization and manage assets with par-level inventory alerts.
"By combining Wi-Fi locating with the precision Versus is known for, we've established the most economic, scalable and effective RTLS in healthcare," says HT Snowday, Versus President. "Hospitals can now have the best of both worlds — enterprise visibility with Cisco Wi-Fi, plus the ability to easily add precision locating for advanced workflow and patient flow optimization."
The Cisco Solution Partner Program, part of the Cisco Partner Ecosystem, unites Cisco with third-party independent hardware and software vendors to deliver integrated solutions to joint customers. As a Solution Partner, Versus Technology offers a complementary product offering and has started to collaborate with Cisco to meet the needs of joint customers. For more information on Versus Technology, go to: https://marketplace.cisco.com/catalog/companies/versus-technology-inc/
About Versus Technology, Inc.
Established in 1988, Versus Technology, Inc. specializes in Real-time Locating Systems (RTLS) for healthcare. Used by more than 800 hospitals for enterprise patient tracking, bed management, asset tracking, and nurse call automation, Versus improves patient flow and documentation of caregiver and patient interactions, while enhancing communication and efficiency. The Versus infrared (IR), Active RFID and Wi-Fi solution is responsible for enterprise visibility, clinical-grade location and automation at hospitals, clinics, surgery centers and senior care facilities worldwide. To learn more about Versus Technology, Inc., our technology and client successes, visit versustech.com.
Safe Harbor Provision
This release may include forward-looking statements which "bespeak caution," and which are subject to risks and uncertainties that could cause actual results to differ materially from the forward-looking statements. The statements are made only as of the date of this release, and the Company undertakes no obligation to update them to reflect subsequent events or circumstances.
###

Compatibility certification via Interoperability Verification Testing and Cisco Validated Design is designed to simulate typical customer configurations and does not replace the need for on-site testing and interoperability validation in conjunction with actual implementation.