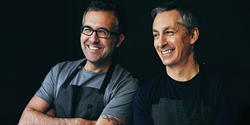 Our world-class culinary standards require an extraordinary level of detail and data to provide consumers with the transparency and authenticity that they demand.
CAMPBELL, Calif. (PRWEB) May 25, 2021
Wicked Foods, the plant-based food company has selected Centric Software®'s Product Lifecycle Management (PLM) solution, Centric PLM. Centric Software provides the most innovative enterprise solutions to plan, design, develop, source and sell products such as apparel, footwear, sporting goods, furniture, home décor, cosmetics, food & beverage and luxury to achieve strategic and operational digital transformation goals.
Founded by brothers and chefs Derek and Chad Sarno, Wicked Foods' mission is to bring innovative, restaurant-quality plant-based foods to mainstream shoppers. Their products are currently sold in Tesco supermarkets in the UK under the brand Wicked Kitchen with a US launch slated for July 2021. "Wicked Kitchen has been one of the biggest success stories in the UK food market since its launch in 2017," says Paul White, COO at Wicked Foods. "There are over 2 million committed brand fans helping to fulfill the brand mission—inspiring more people to eat more plants to create a more compassionate society by eliminating animal suffering."
There were several challenges that caused Wicked Foods to turn to PLM. Says White, "As a brand with a global footprint working with some of the world's most technically & logistically advanced retailers, we need an infrastructure we can trust to manage the complexity in our business." The company reached a point where they had to find a more robust way of managing their data to handle the speed, intensity and breadth of their product development. White says, "Launching dozens of products in different countries simultaneously with unique ingredient and labeling requirements, different retailer timelines and central distribution models and numerous supply chain and compliance standards requires a world-class solution like Centric PLM."
Wicked undertook an extensive discovery process in looking for a PLM solution. Their criteria for selection had as much to do with the right partner as it did with functionality. Says White, "Wicked prides itself on the speed and efficacy of our response to our customer's needs and so when choosing partners we try to work with companies who share that same ethos—we were looking for someone who would be as responsive to our needs as we are to those of our retail partners over the long-term.
"Ultimately, Centric felt like a good fit operationally, strategically and culturally with the right balance of experience, flexibility and expertise for our needs. It will allow us to function in an organized and efficient way that is not just comprehensive but also intuitive and very user-friendly."
The expected benefit from implementing Centric PLM is a world-class digital infrastructure to support the speed, accuracy and precision of their development projects. "Simply put, Wicked Foods wants to be the best, most effective business partner to anyone we work with, so we set ourselves an operating standard that demands better efficiency and responsiveness, both internally and externally," says White. "Our world-class culinary standards require an extraordinary level of detail and data to provide consumers with the transparency and authenticity that they demand."
White concludes, "We need to keep our processes agile, information readily available globally and the intricate details updated continuously. This way, we can fulfill the mission of Wicked Foods in a manner that is as authentic and true as our very first day but can now also deliver that aspiration globally in an expansive and highly effective manner through trusted partners like Centric."
Chris Groves, President and CEO of Centric Software says, "We are happy that Wicked Foods has placed their trust in us to meet their demanding data requirements. With the recent launch of Centric Food & Beverage PLM, we are already seeing strong adoption of our solution packed with innovative features built upon years of success as the PLM leader in the fashion, home, retail and consumer goods categories." Groves continues, "It is exciting to contribute to a movement that is introducing successful culinary plant-based dishes to the North American market and we look forward to their strong growth in the years ahead."
Learn more about Centric PLM for Food & Beverage
Wicked Foods (wickedhealthyfood.com or wickedkitchenfoods.com)
We're Derek and Chad Sarno—brothers, plant-based chefs and the creators of Wicked Foods. Wicked Foods is a mission-led leading plant-based food company that creates restaurant-quality foods emphasizing flavor & texture that make it easy and interesting to adopt more plants in our diet.
We cut through the bullsh*t of crowded and stale grocery shelves like a hot knife through tofu with one goal: to bring plants mainstream! We're driven by innovation and high culinary standards, crafting pioneering and 'first to market' foods with an emphasis on OMG this is delicious AF.
Whether you're vegan or not, our exclusive 'wicked' food range unleashes the mighty flavour of plants like never before. There is no downside to eating and cooking more plants! The more you do it the better and easier it gets. It's always been about working towards doing good and being of benefit for the planet, people and animals!
If you would like to know more about Wicked Kitchen or Wicked Foods or how to go about adopting more plant-based products for your lifestyle, please check us out at wickedhealthyfood.com or wickedkitchenfoods.com or Instagram, Pinterest and Facebook.