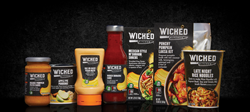 With the largest variety of chef-created plant-based foods from convenience meals to desserts, Wicked expands into new markets furthering its animal-free global mission.
MINNEAPOLIS (PRWEB) January 21, 2022
Wicked Kitchen, a 100% plant-based, flavor-forward food brand in the U.S. and the U.K. with the largest variety of chef-created vegan offerings, announces the expansion into new markets furthering its animal-free global mission. The company is expecting rapid year-over-year growth of more than 300%.
The company launched into Northern Europe today, thanks to a new partnership with leading Finnish grocer S Group (SOK). From a line of fresh ready meals and frozen entrees to ice creams, snacks, and desserts, S Group introduces 25 Wicked Kitchen products at more than 200 locations across Finland and Estonia with plans to double its offerings by the end of the year.
"As a disruptive plant-based brand in the U.K. and the U.S., we are on a mission to improve the lives of humans and animals in even more countries by offering chef-created plant-based foods with a broader appeal," said Pete Speranza, CEO, Wicked Kitchen. "By launching additional products where we already have a presence and expanding into new markets, we will continue to grow our range of delicious options to help meet the burgeoning demand for variety and flavor in plant-based foods."
Like in the U.S. and the U.K., consumers with a range of tastes and preferences in Finland will be delighted by the wide variety of convenient plant-based meals and treats created by chefs and Wicked Kitchen founders, Derek Sarno and Chad Sarno. Wicked Kitchen also confirms today that it plans to launch into Asia by the end of the summer, starting in Thailand.
Having ignited the plant-based movement in the U.K., the number one vegan market globally, Wicked Kitchen is poised to repeat that success in other markets across the globe. In 2022, Wicked plans to add more than 30 new products in the U.K, including fresh ready-to-eat meals and sides, plus seasonal items such as chocolates for Easter. Wicked Kitchen launched in Tesco in 2018, becoming the pioneer in the multi-category plant-based space while establishing the retailer as the U.K. leader for plant-based products. This year, the brand will expand beyond Tesco stores into additional channels in the U.K.
In the U.S., the brand will grow its product set by 50 percent across multiple categories in Kroger and Sprouts stores nationwide. Exciting new products for the U.S. include first-of-its-kind plant-based ice creams with a lupin bean base, frozen pizza and heat-and-eat entrées. Select Wicked Kitchen products will be available on Amazon starting next month.
"Wicked Kitchen is unlike anything else that has come before it in the plant-based space in any market," said Derek Sarno. "Wicked offers chef-crafted, mission-driven products created by exclusively vegan chefs and we put taste front and center while offering peace of mind that there are no animal products used, ever."
To inspire and support plant-based cooking and eating, Wicked Kitchen partnered with Veganuary, a nonprofit whose annual month-long global campaign in January encourages people to try eating vegan for one month; it has more than 2 million participants worldwide to date. Wicked supports anyone interested in eating plant-based with the tools they need to take control –including recipes, meal plans, cooking techniques and videos– for consumers to rely less on animals as a food source. The company's How To Start A Plant-Based Diet For Beginners provides basics of using simple plant-based meat and dairy alternatives, eating out at restaurants and putting together plant-based meals at home. For further inspiration, check out The Wicked Kitchen cooking show on YouTube for hundreds of free plant-based instructional cooking videos.
About Wicked Kitchen
Wicked Kitchen is a pioneering, chef-driven range of delicious plant-based foods that unleash the power of vegetables. It was created by chefs and brothers Derek and Chad Sarno, who are on a mission to improve the lives of humans and animals globally. They are also co-founders of Gathered Foods, the makers of the Good Catch plant-based seafood line. Available in the U.S., UK and Finland, Wicked Kitchen provides convenient meal solutions and increased availability of plant-based foods. Showcased on The Wicked Kitchen YouTube channel, the Sarno brothers have created hundreds of recipes and innovative cooking techniques to make it easy to cook delicious plant-based meals. For more information on Wicked Kitchen, visit WickedKitchen.com. For ongoing news and updates, follow Wicked Kitchen on Facebook and Instagram.