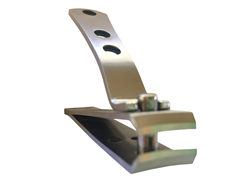 High quality, handled the world's toughest toenails easily. Wide jaw; fast, clean cut. Best clippers i have ever used!
Cary, North Carolina (PRWEB) May 29, 2016
Whole Health Supply is happy to announce the favorable reception of its KlipPro KP-400L wide jaw clipper that has been available via Amazon.com. This new style of nail clipper has a wider jaw opening that is useful for those who have thick nails.
The jaw opening is approximately 4mm and the actual handle is 2.5mm thick to accommodate the cutting force. This is the maximum jaw width for top-down style nail clippers. The wider handle improves grip and prevents finger slippage. This makes it much easier to use for people with arthritis or other gripping issues. Quite often senior citizens find that their toenails have gotten thicker and tougher with age. These clippers save the user from trips to the podiatrist for grooming.
There should be no concern about rust because the KP-400L is made from brushed stainless steel. It features curved blades that work well on either toenails or fingernails and there is no tearing or splitting. If the user wants more finishing, a convenient large nail file is attached and included. KlipPro also offers both a 30-day money-back guarantee and a lifetime warranty.
Laura Manning, Media Relations of KlipPro, said "we analyzed the competition, listened to people's complaints about all the cheaply-made nail clippers that are available today and then we took all that information and designed a solution that will leave you supremely satisfied."
Customers have been more than satisfied. According to the reviews on Amazon.com, one buyer commented, "Finally! A toenail clipper that will handle my husband's toenails which are thickened and distorted from years of running. He actually was planning a trip to the podiatrist to have them trimmed when we discovered these clippers. Excellent product!"
Another reviewer wrote, "High quality, handled the world's toughest toenails easily. Wide jaw; fast, clean cut. Best clippers i have ever used!" Just the thought that so many people took the time to write a few words is rewarding for the company. "These nail clippers truly are wider in the jaw to get around those thick ugly toenails… Your product is well made durable and having the wider mouth it makes it easier for me to maneuver where conventional toenail clippers don't measure up at all, or break easily… Works very easy for arthritic hands."
For more information regarding the KlipPro 400L curved clipper, visit http://www.amazon.com/dp/B015L0GERG