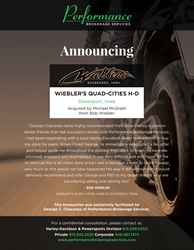 "It was very difficult and emotional for me to retire as this is all I have done since I was a teenager."
IRVINE, Calif. (PRWEB) December 08, 2018
Performance Brokerage Services, a new car and Harley-Davidson dealership broker is pleased to announce the sale of Wiebler's Quad-Cities Harley-Davidson in Davenport, Iowa from Bob Wiebler to Michael McGrath.
Wiebler's Quad-Cities Harley-Davidson was established in 1990 by Wayne Wiebler, Bob Wiebler and Stephen Wiebler. In 1951, Wayne started in the motorcycle business in Peoria, Illinois for the Walters family. In 1965, Bob joined the Walters Brothers dealership in the Parts Department. Wayne's son, Stephen, joined them both in 1980. After many years at the Walters Brothers dealership, the Wiebler family acquired an existing Harley-Davidson dealership in Bettendorf, Iowa.
In 1999, Stephen and Bob relocated the dealership to Davenport and celebrated a grand opening of their new facility on January 22, 2000, forty-nine years after Wayne Wiebler started his career in the motorcycle industry. This was a lifelong dream come true for the Wiebler family. The dealership has remained in the same location ever since.
After 28 years of ownership, the Wiebler family decided it was time to retire from the business and hired George C. Chaconas to assist them with selling Wiebler's Quad-Cities Harley-Davidson. George is the head of the National Harley-Davidson and Powersports Division for Performance Brokerage Services, the nation's highest volume automotive and powersports dealership brokerage firm. Following the sale, Bob Wiebler commented: "I had been negotiating with a local Harley-Davidson dealer that wanted to buy my store for years. When I hired George, he immediately negotiated a fair offer and helped guide me throughout the process from start to finish. He kept me informed, engaged and levelheaded. It was very difficult and emotional for me to retire as this is all I have done since I was a teenager."
Michael McGrath is part of the McGrath family that owns and operates numerous high-profile dealerships throughout Illinois and Iowa, including Lexus of Chicago, Honda of Chicago, Acura of Chicago, Lexus of Westmont, Ford Hyundai of Cedar Rapids, and many more. Michael's popularity in the region also stems from his heavy involvement as the owner and operator of McGrath Harley-Davidson in Dubuque, McGrath Hawkeye Harley-Davidson in Coralville and McGrath Powersports of Cedar Rapids. The acquisition of Wiebler's Quad-Cities Harley-Davidson was the perfect strategic fit for Michael, expanding his footprint in the immediate area.
The dealership will reopen for business on Wednesday, December 5th under McGrath's ownership. The dealership name will change to McGrath Quad City Harley-Davidson and will remain at the current location of 5320 Corporate Park Drive in Davenport, Iowa 52807.
George C. Chaconas, the exclusive agent for this transaction and the head of the National Harley-Davidson and Powersports Division for Performance Brokerage Services commented, "It brings me great pleasure to have assisted the Wiebler family with passing the torch to the McGrath family. I wish Bob and his wife, Tracy Wiebler an enjoyable retirement and thank them for the opportunity to earn their business."
About Performance Brokerage Services
Performance Brokerage Services, an auto dealership broker, specializes in professional intermediary services to buyers and sellers of automotive, commercial truck, Harley-Davidson and Powersports dealerships.
The company offers a different approach to the automotive, commercial truck, Harley-Davidson and Powersports industries by providing complimentary dealership assessments, no upfront fees, no reimbursement of costs and is paid a success fee only. Performance Brokerage Services gets paid only after the client gets paid.
With over 25 years of experience, the company utilizes an extensive network of industry related accountants, attorneys, hundreds of registered buyers and enjoys longstanding relationships with most of the auto manufacturers and the Harley-Davidson Motor Company. The intermediaries at Performance Brokerage Services have been involved in well over 600 transactions. Pledging loyal and unwavering representation, confidentiality is vigilantly protected during the selling process and after the transaction closes.
With corporate offices in Irvine, California, six regional offices in Utah, Florida, Texas, New Jersey, Alberta and Ontario, a dedicated Harley-Davidson and Powersports Division, and a dedicated Commercial Truck Division, Performance Brokerage Services provides its clients national exposure with local representation. For more information about the services offered by Performance Brokerage Services, visit https://performancebrokerageservices.com.