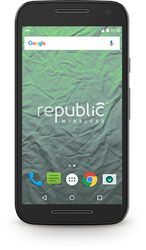 The Moto G stands heads and shoulders above other phones as the best Android smartphone you can buy without feeling like you're missing out on something
Raleigh, NC (PRWEB) October 13, 2015
Republic Wireless continues to raise the bar – this time the WiFi calling leader that refunds customers back dollar for dollar for unused cellular data, today announced it will offer Motorola's Moto G (3rd Gen) smartphone beginning October 27. At $199 and $229 for the 8GB and 16GB version respectively, the Moto G (3rd Gen) is widely considered the best high-quality, low cost smartphone on the market.
"It's a great time for consumers who want to be savvy with their smartphone purchase. You don't have to spend $600+ to get a great phone. The quality bar has dramatically risen over the past 12 months – the super affordable Moto G (3rd Gen) includes much of the same feature set as the higher-end Moto X 1st Generation," said David Morken, chief executive officer and co-founder of Bandwidth.com, Inc. and Republic Wireless. "The Moto G stands heads and shoulders above other phones as the best Android smartphone you can buy without feeling like you're missing out on something."
The new Moto G (3rd Gen) combined with Republic Refund™ plans help consumers save hundreds of dollars annually over traditional cellular only plans. Plans include:

$5 – unlimited WiFi calling, texting and data
$10 – "Republic Refund™ Base Plan" - unlimited WiFi calling, texting and data + unlimited cellular talk and text
$25 – "Republic Refund™ Plan" - unlimited WiFi calling, texting and data + unlimited cell talk and text, 1 GB 4G on-net cell data
$40 – "Republic Refund™ Plan"- unlimited WiFi calling, texting and data, unlimited cell talk and text, 2 GB 4G on-net cell data
$15 - for each additional 1GB of cell data
"It's fascinating to watch what is happening - the bill for current customers on the Republic Refund plans is currently averaging $13-$15 a month which says a lot about the power of WiFi to reduce wireless costs. Unlike other carriers – and this is key to what makes us different – Republic is returning the savings back to the customer," Morken said.
Moto G (3rd Gen) Phone Specifications
Screen: 5 inches HD Corning® Gorilla® Glass 3 screen
Camera: 13 megapixel camera featuring f/2.0, Field of View -76 degrees, CCT dual-LED flash, Auto focus, Quick Capture (twist wrist to launch camera), Tap anywhere to capture, 4X digital zoom (drag to zoom in/out), Slow motion video, Burst mode, Auto HDR, Panorama, Video iHDR, Manual focus and exposure controls, Timer, Active viewfinder (recognizes QR codes and barcodes)
Music: Music/Audio Formats Supported: AMR-NB, AMR-WB, AAC, AAC+, eAAC+, MP3, FLAC, WAVE, OGG
Memory: 8GB internal memory + 1GB RAM or 16GB internal memory + 1GB RAM; supports up to 32GB of removable storage
"It's important to understand all WiFi calling is not created equal. While larger companies are finally waking up to the potential of WiFi calling, we continue to stay several steps ahead developing bleeding edge technology that is protected by more than 30 patents. Our engineers are constantly innovating in areas including network agnostic seamless connectivity, on-phone tools that make it easy to minimize the use of cellular, WiFi calling quality, and more," Morken said. "Our goal remains hybrid WiFi-cellular calling equal to, if not better, than cellular alone. As a consumer, you should never have to think about what network you are on."
About Republic Wireless
Recognized as the winner of PC Magazine's Annual Reader's Choice Award, the top pre-paid service provider by Consumer Reports and named 'Disruptor of the Year' by Entrepreneur Magazine, Republic Wireless is on a mission to create smartphone service as it should be.
Republic Wireless, a division of Bandwidth, headquartered in Raleigh, North Carolina, is spearheading a wireless freedom movement to return value and control of the smartphone experience to members by leveraging the power of both WiFi and cellular networks. The service uses WiFi in the home, office or anywhere else as the primary network for calls, texts and data. When outside of WiFi coverage, the smartphone works just like a typical smartphone on the cellular networks of national CDMA carriers. Visit http://www.republicwireless.com/ for more information. Media resource center here.