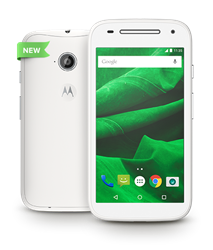 Not everyone needs or wants the highest end devices. The Moto E is a perfect first smartphone for people who need just the basics, as well as for 'tweens, teens, students and grandparents.
Raleigh, NC (PRWEB) July 14, 2015
WiFi smartphone carrier Republic Wireless today announced that it will begin selling the new Moto E (2nd Generation). At a $129 price point, this follow-up to the original Moto E now supports 4G LTE, sports a front-facing camera for selfies and features a larger display. Combined with the recently-announced Republic Refund plans that repay customers dollar for dollar for all unused cellular data, the Moto E is a timely addition to Republic's growing phone portfolio. The company also announced lower pricing for its popular Moto G smartphone - from $149 to $99.
"The real innovation in smartphones right now is in the entry level and mid-tier categories. The Moto E is a good phone at a great price, and is a significant step up from last year's model. Motorola has done a terrific job of offering premium features at a not so premium price point with the Moto E. Combined with our affordable WiFi + Cell plans, Moto E is an important, popular option for our customers," said David Morken, co-founder and CEO of Republic Wireless.
"Not everyone needs or wants the highest end devices. The Moto E is a perfect first smartphone for people who need just the basics, as well as for 'tweens, teens, students and grandparents. If all you need is a smartphone that lets you replace a home phone, check email, take you to Facebook, capture images for Instagram or fire off missives on Twitter (or WhatsApp or Weibo), the Moto E is a capable, stylish option," Morken adds.
The Moto E offers a sharp, 4.5 inch display protected with Corning® Gorilla® Glass and a water-resistant splash guard for lasting durability. The Moto E boasts an all-day battery (1). Innovative software tools such as Motorola Alert can be set up to notify pre-selected emergency contacts when in a location that may not be safe and Motorola Migrate makes it easy to transfer messages, photos, and more from a previous smartphone. In addition the camera can be activated with just a twist of your wrist.
Technical Specifications:

4G LTE cellular capable
Long lasting 2,390 mAH battery
1.2 GHz quad-core processor
8GB storage + microSD card slot supporting up to 32GB expandable memory
5-megapixel rear-facing camera, f/2.2 aperture, Quick Capture, 4X digital zoom, Slow motion video, Burst mode, Auto HDR, Panorama, Tap to focus
VGA front facing camera for video conferencing and selfies
Dimensions
Height: 129.9 mm (5.11 inches)
Width: 66.8 mm (2.63 inches)
Curve: 5.2 - 12.3 mm (0.20 - 0.48 inches)
Weight: 145 grams (5.11 ounces)
Display
4.5" qHD 540x960 245 ppi IPS
Corning® Gorilla® Glass 3
Anti-smudge coating
Battery: 2390 mAh - Mixed usage up to 24 hours(1)
1: All battery life claims are approximate and based on an average user profile that includes both usage and standby. Actual battery performance will vary and depends on signal strength, network configuration, features selected, and voice, data, operating temperature and other application usage patterns.
About Republic Wireless
Recognized as the winner of PC Magazine's Annual Reader's Choice Award, the top pre-paid service provider by Consumer Reports and named 'Disruptor of the Year' by Entrepreneur Magazine, Republic Wireless is on a mission to create smartphone service as it should be.
Republic Wireless, a division of Bandwidth, headquartered in Raleigh, North Carolina, is spearheading a wireless freedom movement to return value and control of the smartphone experience to members by leveraging the power of both WiFi and cellular networks. Our Hybrid Calling uses WiFi in the home, office or anywhere else as the primary network for calls, texts and data. When outside of WiFi coverage, the smartphone works just like a typical smartphone on the cellular networks of national CDMA carriers. Visit http://www.republicwireless.com/ for more information. Media resource center here.