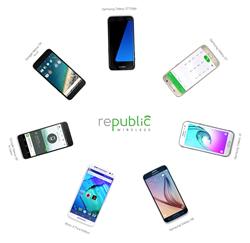 "We've built something purposely different at Republic Wireless ... Customers joined us, became passionate enthusiasts, and an incredible source of ideas, support and true partnership in building Republic what it is today.
Raleigh, NC (PRWEB) May 11, 2016
Republic Wireless is readying WiFi calling for prime time. On the heels of its groundbreaking Bonded CallingTM technology rollout, which significantly improves the WiFi calling experience, Republic Wireless today announced it will dramatically widen its product portfolio in July by offering its affordable service on popular models from four of the top five U.S. Android smartphone manufacturers. Customers may purchase these smartphones at either RepublicWireless.com or bring their own new or used versions of the following initial list of leading Android MTM enabled devices:

Moto X Pure Edition
Google Nexus 6P by Huawei
Google Nexus 5X by LG
Samsung Galaxy J3 (2016)
Samsung Galaxy S6
Samsung Galaxy S7
Samsung Galaxy S7 Edge
Additionally, when cellular is needed, all of these devices will have access to a new nationwide GSM carrier with the fastest nationwide 4G LTE network. This is the second nationwide carrier Republic Wireless has integrated with for its seamless hybrid WiFi and cellular service. The company launched with Sprint in 2011 and plans to continue utilizing their network as well.
Beyond this initial list of devices, the company is continuing to test and certify additional smartphone models that can be enhanced with their Adaptive CoverageTM technology and expects to announce additional lower priced devices in the coming weeks.
"We've been working for this day since we first launched on November 19th, 2011. Our vision has always been to make our remarkably affordable and fair services available to the vast majority of the Android smartphone market. However, as in any new technology approach, innovation often initially comes with a few compromises; and in the case of our hybrid WiFi calling, it was a limited selection of devices and cellular network. Thanks to some key breakthroughs in our Adaptive Coverage technology and the addition of a GSM carrier partner, our vision will become reality, as we will remove these limitations so we can serve many more customers with our top-ranked offering," said Chris Chuang, chief operating officer of Republic Wireless.
Republic Wireless has earned a loyal customer following and prestigious awards such as PC Magazine's Editor's Choice for "Highest User Satisfaction for plan costs in the nation" as well as top rankings in Consumer Reports surveys and more.
"Our upcoming launch is very much a direct response to the feedback our customers have given us. While they love our plans, they didn't want to be limited to a single cellular network and device manufacturer option with Republic. As a result, our engineers have worked tirelessly to change how we integrate our software with new devices. The result was a new approach that allowed us to not only work with more manufacturers, but also improve the speed of our devices launches and software updates to our customers. We're excited to add some of the newest and best-selling devices from multiple manufacturers along with device financing that allows customers to pay for phones over time. When you combine our affordable plans with a broad new device lineup and a new GSM network that has the fastest 4G LTE in the country, you get a very compelling WiFi first offer with no compromises," Chuang added.
The company also announced that, in response to strong customer feedback, it will be adding new pricing plans to accompany the new devices and new GSM network, with full details forthcoming in the next couple weeks. One example of the new plans Republic Wireless shared is a $20 per month offer that includes unlimited talk and text + 1GB of high speed LTE data.
"We've built something purposely different at Republic Wireless, something based on respect and fairness in an industry that seemingly lacked both. Customers joined us, became passionate enthusiasts, and an incredible source of ideas, support and true partnership in building Republic Wireless to what it is today. In response to their feedback, we are working to update our pricing plans to include a new, industry leading $20 per month plan option. This new plan will allow a large portion of our customer base to save even more money," Chuang added.
About Republic Wireless
Recognized for excellence in customer service by PC Magazine and noted the top pre-paid carrier choice by Consumer Reports, Republic Wireless is on a mission to provide remarkably simple and affordable ways to stay in touch with anyone, anywhere, in any way. A division of Bandwidth, headquartered in Raleigh, North Carolina, Republic Wireless leverages the power of both WiFi and cellular networks and gives consumers the ultimate flexibility to manage costs. The service uses WiFi in the home, office or anywhere else as the primary network for calls, texts and data. When outside of WiFi coverage, the smartphone works just like a typical smartphone on the cellular networks of national carriers. Visit http://www.republicwireless.com/ for more information. Media resource center here.
-END-