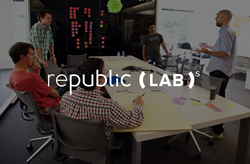 It's been estimated that current industry plans cause consumers to waste an average of $16 a month or nearly $200 per year in unused cellular data. We think that's ridiculous. We will pay customers back penny for penny for unused cellular data."
Raleigh, North Carolina (PRWEB) April 20, 2015
Republic Wireless, the WiFi calling service provider recognized as PC Magazine's 2015 Readers' Choice for mobile carriers, today announced a new initiative designed to help customers purchase just the amount of cellular data they truly need. In an industry first, Republic is launching beta plans that repay Republic Labs participants for all unused cellular data.
Having pioneered seamless WiFi-to-cellular handoff, Republic is now "completing the circle" by rolling out reverse handover of calls from cellular to WiFi without interruption. Republic is launching customer betas for next generation smartphones, seamless communications across multiple devices and support for multiple cellular carrier partners in the coming months. The company will roll these programs out to all customers after working with its Republic Labs test groups.
"One of the coolest things here at Republic is collaborating together with our Customers to solve the biggest industry pain points in Republic Labs. It helps us keep one step ahead. Customers told us they wanted control over how much cellular data they buy - with today's announcement, we are delivering," Bandwidth and Republic Wireless CEO, David Morken said. "Over eighty percent of our customers use less than a gigabyte of cellular data a month. It's been estimated that current industry plans cause consumers to waste an average of $200 per year in unused cellular data. We think that's ridiculous. So we've devised a way to pay customers back penny for penny for unused cellular data every month."
"Four years ago Republic became the first US carrier to build a business model based on WiFi calling, with cellular as a backup network. The market and the industry has reacted to our moves, but not enough, so we decided it was time to up the ante once again," Morken adds.
Along with paying customers back for their unused cellular data, Republic is also working with customers to tee up several other industry-changing products. Over the next 9 months, Republic will begin customer-driven beta tests of new features and products including:

Cellular-to-WiFi handover - Republic has refined seamless WiFi to Cell handover over the last couple years so calls don't drop. In the reverse, the company has begun real-world trials with customers on seamless cellular to WiFi handover.
Next-gen mobile phones - Customers will test which phone Republic launches next.
Seamless multi-device communications - Republic will begin testing the ability for customers to access calls and messages from any device including tablets as well as laptops and desktops.
Multiple carrier cellular networks - Republic will also be adding a second cellular carrier partner joining later this year.
"This story is about more than technology and cost savings - it's really about a company wholly dedicated to improving the entire consumer wireless experience - leveraging all of things that consumers have wanted from a wireless company, while changing the things that aren't customer friendly. Contracts and early termination fees are dinosaurs from the past. As of today, cellular-first approaches and overpaying for data will be as well," Morken adds.
About Republic Wireless
Recognized as the winner of PC Magazine's Annual Reader's Choice Award, the top pre-paid service provider by Consumer Reports and named 'Disruptor of the Year' by Entrepreneur Magazine, Republic Wireless is on a mission to create smartphone service as it should be.
Republic Wireless, a division of Bandwidth, headquartered in Raleigh, North Carolina, is spearheading a wireless freedom movement to return value and control of the smartphone experience to members by leveraging the power of both WiFi and cellular networks. Our Hybrid Calling uses WiFi in the home, office or anywhere else as the primary network for calls, texts and data. When outside of WiFi coverage, the smartphone works just like a typical smartphone on the cellular networks of national CDMA carriers. Visit http://www.republicwireless.com/ for more information. Media resource center here.