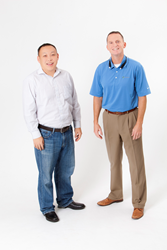 The past five years have been an incredible ride as we've worked hard to save our customers tens of millions of dollars off their cell phone bills. However, our best days are still ahead of us.
Raleigh, NC (PRWEB) December 01, 2016
WiFi calling leader Republic Wireless today announced some of the biggest discounts on phones and service in its history to celebrate closing $30 million of funding and its successful spin-off as an independent company from Bandwidth.
In appreciation of its loyal customers and interested followers, Republic will launch two special offers in December on its latest smartphones - $100 off a Moto Z Play at $349 (discounted from $449 from 12/7-12/12) and $50 off the soon-to-be-launched Huawei Ascend 5W at $129 (discounted from $179 from 12/13-12/19), both of which come with an unheard of contract-free six months no cost service (unlimited talk and text + 1GB cellular data service plan)*.
Republic Wireless pioneered the idea of "WiFi first" mobile service, using cellular networks as a backup, resulting in tens of millions in annual savings for its customers. By delivering U.S. consumers better coverage, in more places, for less money, Republic Wireless has rapidly grown to $100 million in annual revenue and reached profitability. As the company enters its next chapter of growth, co-founder Chris Chuang will move from COO into the CEO role, while co-founder and former CEO David Morken will remain active as Chairman of Republic Wireless' Board of Directors.
Republic Wireless co-founder David Morken says, "Five years ago, when we publicly launched our Republic Wireless beta, many in the industry laughed at the notion that a new carrier could succeed with a WiFi first strategy. Fast forward to today, with our award-winning plans starting at just $15 and 45+ patents we own for key WiFi calling breakthroughs like Adaptive Coverage™, we see a market where every major carrier plus a host of new entrants are now attempting to deliver WiFi calling to their customers as well. While I will remain actively involved in Republic as Chairman of the Board, it is with great pleasure that I hand day-to-day leadership over to my friend and co-founder Chris Chuang who has played an instrumental role in Republic's success from day one."
"The past five years have been an incredible ride as we've worked hard to save our customers tens of millions of dollars off their cell phone bills," said Republic CEO Chris Chuang. "However, our best days are still ahead of us. With this extraordinarily talented team and all the benefits this spin-off provides, we will accelerate our mission to provide remarkably simple and affordable ways for people to stay in touch. None of this would be possible, without the incredible and active support from our customers and those following us. So, the first thing we want to do with our new $30 million capital infusion is to thank them with two of the biggest special offers in our history. Today is an important milestone in our story, but, really it just marks the beginning of an even more exciting next chapter ahead."
Republic Wireless will remain in Raleigh on NC State's Centennial Campus and is actively hiring. Along with Bandwidth, Republic has frequently been named one of North Carolina's top places to work.
Republic Wireless has earned a loyal customer following and prestigious awards such as PC Magazine's Editor's Choice for "Highest User Satisfaction for plan costs in the nation" as well as top rankings in Consumer Reports surveys and more.
*Taxes and telecom fees not included. Offer valid only while supplies last. Other terms and conditions apply.
About Republic Wireless
Recognized as the top pre-paid carrier choice by Consumer Reports and for excellence in user satisfaction by PC Magazine, Republic Wireless is on a mission to provide remarkably simple and affordable ways to stay in touch with anyone, anywhere, in any way. Headquartered in Raleigh, North Carolina, Republic Wireless leverages the power of both WiFi and nationwide cellular networks and gives consumers the ultimate flexibility to manage costs. The service uses WiFi in the home, office or anywhere else as the primary network for calls, texts and data. When outside of WiFi coverage, the smartphone works just like a typical smartphone on the cellular networks of national GSM and CDMA carriers. Visit http://www.republicwireless.com/ for more information. Media resource center here.
-END-