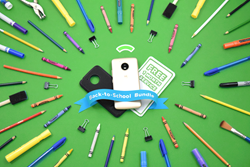 Republic Wireless is lowering the financial anxiety with an unbeatable offer that serves the core needs of your child, without the big price tag.
Raleigh, NC (PRWEB) July 31, 2017
As smartphones have become an essential tool for students, teachers and parents, WiFi calling carrier Republic Wireless today announced a special week long promotion of the new Motorola Moto E4 (normally $129), an Incipio case built to withstand tough drops (a $20 value), and a month of free service ($20 plan) for $99 (normally $169). For more details please visit https://republicwireless.com/sale/bundle-promo/.
"Taking the plunge and buying your child a smartphone can be a bit scary, but it can also be worth the investment for the peace of mind, said Chris Chuang, president and CEO of Republic Wireless. "We're lowering the financial anxiety with an unbeatable offer that serves the core needs of your child, without the big price tag."
"Luckily, the Moto E4 is a perfect first time smartphone and a great option that won't break the bank — so you won't be too upset if your child's trial run ends in a lost phone," Chuang added.
Republic Wireless pioneered the idea of "WiFi first" resulting in tens of millions in annual savings for its customers. Republic's smartphones deliver high quality and savings by using the less expensive WiFi network when possible and seamlessly connecting to nationwide 4G LTE cellular network whenever necessary. Starting at $15, all Republic plans include unlimited talk and text whether on WiFi or cellular, and instead of paying a premium for unlimited data with caveats buried in the fine print, customers chose the cellular data they really use.
The Moto E4 offers a sharp, 5" inch display and boasts an all-day battery1. Premium features such as a fingerprint sensor allow users to instantly unlock their phone with the touch of a finger.
Technical Specifications:
-- 4G LTE cellular capable
-- Long lasting 2,800 mAH battery
-- 1.4 GHz quad-core processor
-- 16GB storage + microSD card slot supporting up to 128GB expandable memory
-- 8-megapixel rear-facing camera, f/2.2 aperture. Tap to focus.
-- 5MP wide angle front facing camera for great selfies
Republic's Adaptive Coverage™ blends WiFi with cellular to create expanded network coverage for consumers that is less expensive to operate. The Clear Choice Plans pass these savings on to customers in the form of being 40%-60% less expensive than comparable plans from the big carriers.
-- Unlimited Talk & Text + WiFi Data /$15 a month
-- Unlimited Talk & Text + WiFi Data + 1GB Cellular Data / $20 a month
-- Unlimited Talk & Text + WiFi Data + 2GB Cellular Data / $30 a month
-- Unlimited Talk & Text + WiFi Data + 4GB Cellular Data / $45 a month
Republic offers Android phones for all budget levels – for a full list of current devices please see http://www.republicwireless.com/phones. Of the carriers offering service over both WiFi and cellular, Republic supports the broadest lineup of Android smartphones in its Bring Your Own Phone program – currently 17+ Android smartphones (Marshmallow and above) from manufacturers including Samsung, Huawei, and Motorola.
"With the growing prevalence of WiFi in schools across the country, there is simply no reason for anyone to pay a carrier for 24x7 access to a cellular network," Chuang said.
1 All battery life claims are approximate and based on an average user profile that includes both usage and standby. Actual battery performance will vary and depends on signal strength, network configuration, features selected, and voice, data, operating temperature and other application usage patterns.
About Republic Wireless
Recognized for offering the best basic plan by MONEY Magazine, a top pre-paid carrier choice by Consumer Reports and for excellence in user satisfaction by PC Magazine, Republic Wireless is on a mission to provide remarkably simple and affordable ways to stay in touch with anyone, anywhere, in any way. Headquartered in Raleigh, North Carolina, Republic Wireless leverages the power of both WiFi and nationwide cellular networks and gives consumers the ultimate flexibility to manage costs. The service uses WiFi in the home, office or anywhere else as the primary network for calls, texts and data. When outside of WiFi coverage, the smartphone works just like a typical smartphone on the cellular networks of national GSM and CDMA carriers. For more information. Media resource center here.